The Studebaker Brothers: The Lives and Legacy of the Family Behind the Famous Automobile Company (Paperback)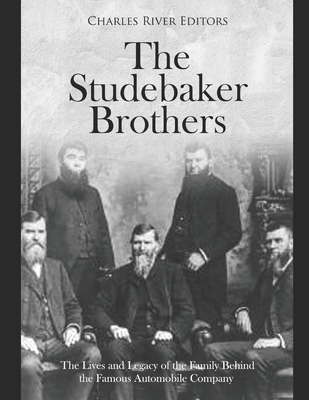 Description
---
*Includes pictures
*Includes a bibliography for further reading
"The automobile has come to stay. But when a man has no business, it is a rather expensive luxury, and I would advise no man, be he farmer or merchant, to buy one until he has sufficient income to keep it up. A horse and buggy will afford a great deal of enjoyment..." - John M. Studebaker
For a couple of generations of Americans, along with Ford, Chrysler, and General Motors, there was Studebaker, and though it is no longer in existence, the Studebaker Automobile Company is still part of the popular culture. When a 1950s family is depicted on television today, the likelihood is that the family car is a Studebaker. The symbolic power of the Studebaker name was recently exemplified when South Bend, Indiana Mayor Pete Buttigieg announced his candidacy for the Democratic Party's presidential nomination. Kris Maher, writing in The Wall Street Journal, noted "For decades, the biggest symbol of this Midwestern city's decline was the vacant Studebaker plant at one end of the city with its broken windows. Kevin Smith, a business owner in South Bend who bought the property to renovate it, said the empty relic was holding the city back. 'It looms over the town, ' he said. 'Everyone had the feeling that we could no longer compete. These days, some 40 organizations, including tech companies and a school that teaches coding to children, rent space on the 1.2 million-square-foot campus, including one building with an open floor plan and interior glass walls. Now called the Renaissance District, it is a symbol of the rebound in the state's fourth-largest city.'"
Today, people have likely heard of the name Studebaker without realizing that before Detroit was dominated by the Big Three automakers, there was a fourth major automobile company. The story of the Studebaker company and the Studebaker family exemplifies both the American dream and the difficulty in sustaining that dream.
The Studebaker Brothers: The Lives and Legacy of the Family Behind the Famous Automobile Company chronicles how the family built up a manufacturing empire and made some of America's most famous cars. Along with pictures of important people, places, and events, you will learn about the Studebaker brothers like never before.