Tarot for Beginners: Uncover their Secret Meaning, Unlock your Inner Intuition, and Master Divination. Discover How Tarot Cards are connect (Hardcover)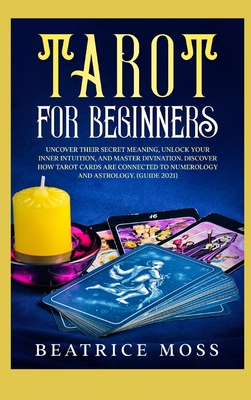 List Price: $35.97
Our Price: $32.37
(Save: $3.60 10%)
Description
---
Learn the Mystical Rituals of Tarot and Divination That Will Reveal You the Secrets of Universe
Evil, witchcraft, mumbo-jumbo, scamming tool - these are the adjectives that ordinary people associate with the Tarot. What they don't realize is that the Tarot is so much more than that - so much more than meets the ey
e.
Tarot is tool and language of the Universe - a language through which the Universe tells you its secrets and truthful answers to questions you ask.
Are you a person interested in Tarot and Divination?
Would you like to learn the mysteries of the Universe?
Would you like to delve deep into the world of mysticism?
If so, then Tarot will give you the answers you seek, and this Tarot guide will show you the easiest way to do so
With this book in your possession, you will learn what the Tarot is and how it works by gaining mystic knowledge and comfortably practicing the art with a strong, well-rounded understanding of the Tarot's history, definitions, and principles.
Don't worry; the mystery will be explained without destroying the magic.
Here is what this Tarot guide for beginners can offer you:
Superstition and myths revolving around Tarot debunked
Tarot's history, definitions, and principles
The meaning and significance of Major Arcana and Tarot Cards
An in-depth explanation of Bars
Meaning of all 14 pentacles
Meaning of the Chalices Tarot Cards
The connection between Tarot, Astrology, and Numerology
And much more
If you want to uncover the secrets of the Universe and learn the mystic rituals of Tarot and Divination, all you have to do is to follow easy step-by-step guides found inside. So, what are you waiting for?
Scroll up, click on "Buy Now with 1-Click," and Get Your Copy Now