Hack Proof Your Business (Paperback)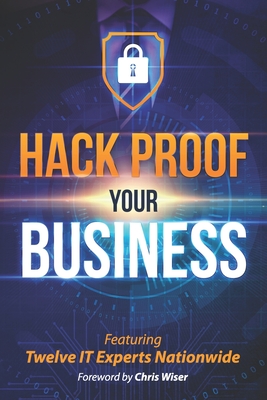 Description
---
How Secure is Your Business?

Cyber security is one of the most critical issues in today's business environment. All businesses today run entirely on technology. For a business owner, what would happen if every piece of technology that runs your business was suddenly compromised or hacked?Hack Proof Your Business is co-written by a group of high-level IT & Cyber security experts who have come together to give you an outline on what to do in order to protect your business and your livelihood from cyber security threats.

Topics covered are:
Real Life Hacking Stories
Training Your Employees to Avoid Cyber Attacks
The Real Reason for a Cyber-Security Risk Assessment
Developing a Layered Security Approach
Preventing Hacks with a Technology Success Plan
Social Engineering, Spear-phishing, Whaling, and How Not to Be a Victim
How to Develop a Business Continuity Plan
The Importance of Email Security
Endpoint Detection and Response vs. Traditional Anti-Virus
Securing Your Shadow IT
Insider Threats: What They Are and How to Prevent Them
How to Back Up Your Data
No business is too small to avoid getting hacked; it is simply a matter of time. Learn what to do NOW so you can avoid loss of revenue in future.
Brought together by Chris Wiser of The Wiser Agency, the IT experts featured in this book are: Bart Barcewicz, Umut Bitlisli, Ross Brouse, Bill Bunnell, Jess Coburn, Michael Daley, John Kistler, Jeri Morgan, Jason Penka, Duleep Pillai, Igor Pinchevskiy and Roy Richardson.