Imperfect Tense (Paperback)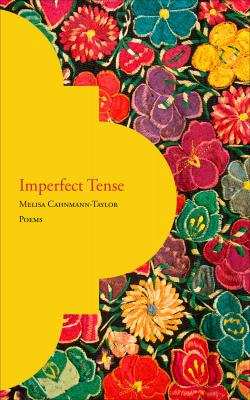 $15.00
Usually Ships in 3-5 Days (Subject to Availability)
This title is NON-RETURNABLE.
Description
---
This poetry collection is a meditation on language. The first section delves into Americans' pursuit of Spanish as a second language. They take the literal grammar of the "imperfect" as a metaphor for the language acquisition process. The second section revolves around experiences as an English language and poetry teacher working with immigrant communities. The final section focuses on the languages of family.
About the Author
---
Melisa Cahmann-Taylor is Professor of TESOL & World Language Education at the University of Georgia. She is the winner of Dorothy Sargent Rosenberg Prizes, a Leeway Poetry Grant, and a Fulbright award and has co-authored two books, Teachers Act Up: Creating Multicultural Learning Communities Through Theatre and Arts-Based Research in Education. She has published numerous articles and poetry about language learning, sustainable or fragile states of bilingualism, and teacher education. Her poems have appeared in American Poetry Review, Women's Quarterly Review, Cream City Review, Barrow Street, Puerto Del Sol, Mom Egg, and many other literary homes. Cahnmann-Taylor judges the annual Anthropology & Humanism poetry contest and is the editor of the ethnographic poetry section.
Praise For…
---
"Melisa Cahnmann is one funny and serious poet. Come on board and enjoy her play with language—make that languages, plural, please. Then discover how a woman can be passionate and compassionate, personal and universal, appetites intact, body and mind fully alive, though she remembers "a broken world I am." As we all are."
—Alicia Ostriker, author of The Book of Seventy

"Melisa Cahnmann-Taylor's Imperfect Tense asks questions of language in the way a philosopher must ask questions of morality. Cahnmann-Taylor is a poet of ethics, using her powers to explore the meanings of all things we take for granted. The formal poems in this collection stress the duty of the poet to subvert and to perfect the subversion."
—Jericho Brown, author of Please and The New Testament

"Gender made it worse, " writes Melisa Cahnmann-Taylor, referring not only to sexual nature but, more implicitly, to the grammar that attempts to inscribe it. Her poems underscore political, linguistic and romantic turbulence with wisdom, humor, and yes, craft. Imperfect Tense suspends us in multiple layers of meaning and introduces us to a poet—"what a broken world I am" —of moral depth and consequence."
—Michael Waters, author of Gospel Night and Darling Vulgarity

"The ancient Greeks called themselves, and therefore us, 'the language animal.' These poems are about language and are brilliant evocations of what it is like to be human in a world that seems to make that more and more difficult.This is an original and powerful book."

—Thomas Lux, author of To the Left of Time and The Cradle Place

"Learning a second language anchors this collection and serves as a metaphor for living in community with others. 'Survival's a trade' one speaker declares, three words that yoke the 'Southern transplant' to international students, refugees and undocumented youth. The language of family life—'The rabbi says we never own our sons./ On loan these boys like never-ending books' —reveals the poet's fine ear and compassion for our 'imperfect' world."

—Robin Becker, author of Tiger Heron


"Wisdom, wit, and compassion characterize Melisa Cahnmann-Taylor's first book of poems, Imperfect Tense." —Ann Fisher-Wirth, Mom Egg Review