How to Walk (Mindfulness Essentials #4) (Paperback)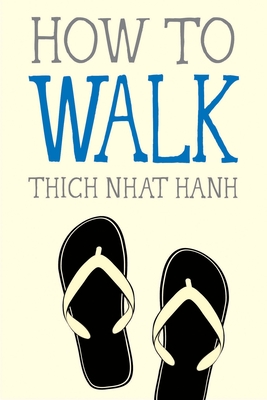 Other Books in Series
This is book number 4 in the Mindfulness Essentials series.
Description
---
An introduction to mindful walking, which can be done anywhere, at any time—even on a commute to work or school.

The fourth book in the bestselling Mindfulness Essentials series, a back-to-basics collection from world-renowned Zen Master Thich Nhat Hanh that introduces everyone to the essentials of mindfulness practice.

Slow, concentrated walking while focusing on in- and out-breaths allows for a unique opportunity to be in the present. There is no need to arrive somewhere—each step is the arrival to concentration, joy, insight, and the momentary enlightenment of aliveness. When your foot touches the Earth with awareness, you make yourself alive and the Earth real, and you forget for one minute the searching, rushing, and longing that rob our daily lives of awareness and cause us to "sleepwalk" through life.

Thich Nhat Hanh shares amusing stories of the impact mindful walking has on both the walker and those who notice him, and shows how mindful walking can be a technique for diminishing depression, recapturing wonder, and expressing gratitude. Pocket-sized, with original two color illustrations by Jason DeAntonis, How to Walk is a unique gift for all ages, sharing a simple practice that can have a profound effect on practitioners.
About the Author
---
Thich Nhat Hanh is one of the most revered Zen teachers in the world today. His best-selling books include Be Free Where You Are and No Mud, No Lotus. He is the founder of the Plum Village Community of Engaged Buddhism in southwest France, the largest Buddhist monastery in Europe. Thich Nhat Hanh has been teaching the art of mindful living for more than 70 years. He lives in Hue, Vietnam.

Jason DeAntonis is an award-winning polymathic Bay Area artist, known for his fine carpentry and detailed woodwork. He has also worked in sculpture, costume design, glass blowing, painting, printmaking, and book illustration. His work has appeared in Parallax Press books Mindfulness in the Garden and the Mindfulness Essentials series, among others. He lives in Berkeley, California.


Praise For…
---
The Mindfulness Essentials have appeared on the NPR Bestseller list, the San Francisco Chronicle Bestseller list, the Boston Globe Bestseller list, the LA Times Bestseller List and the extended New York Times Bestseller List. 

"The monk who taught the world mindfulness."
—TIME
 
"Thich Nhat Hanh shows us the connection between personal inner peace and peace on earth."
—His Holiness the Dalai Lama

"Thich Nhat Hanh is a holy man, for he is humble and devout. He is a scholar of immense intellectual capacity. His ideas for peace, if applied, would build a monument to ecumenism, to world brotherhood, to humanity."
—Dr. Martin Luther King, Jr.