Hacking with Kali Linux: The Ultimate Guide on Kali Linux for Beginners and How to Use Hacking Tools for Computers. Practical Step-by-Step Exam (Paperback)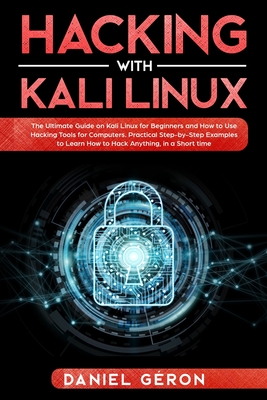 List Price: $24.97
Our Price: $22.47
(Save: $2.50 10%)
Usually Ships in 3-5 Days (Subject to Availability)
Description
---
Are you fascinated by the idea of hacking?
Do you want to learn the secrets of Kali Linux?
Do you want to learn the advanced concepts of Kali Linux?
If so, then keep reading
Hello Welcome to "Hacking with Kali Linux."
In this book, you will discover that there is a lot more to hacking than you first thought. This book is perfect for beginners, a comprehensive guide that will show you the easy way to learn Kali Linux. The goal of this book is to help you learn the fundamentals of hacking and to give you an introduction to becoming a hacker. This book targets students who have little or no experience in hacking or Kali Linux.
Learn Hacking and Kali Linux, one of the fastest-growing and highest-paying careers, with over 1 million cybersecurity job openings available this year
Learning Hacking & Kali Linux will also help you to increase your earnings. An investment in your career is an investment in yourself. Don't procrastinate. There is no time like the present to take charge of your career. Take your career to the next level by learning hacking essentials today
This guide is great for beginners, or for capable computer users who want to learn both how and why to secure their data.
Here's what makes this book special:
Introduction to Hacking and Kali Linux
Hacking with Kali Linux
What is Hacking?
Kali Linux for Beginners
Kali Linux Installation
Real examples of how to hack with Kali Linux
Advanced Kali Linux Concept
How to Initiate a Hack Using Kali Linux
How to Successfully Launch an Attack
And so much more