Dirty Talk For Beginners: The One Thing That Couples See As Taboo But Can Actually Spice The Relationship, Give Sensational Orgasms Like Oral Se (Hardcover)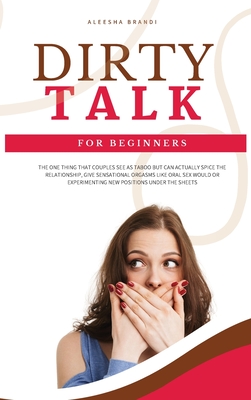 List Price: $49.95
Our Price: $44.96
(Save: $5.00 10%)
Description
---
Our personal relationships are always evolving and tend to switch through different phases. Just remember how you used to look at your partner during your first days together, always in that sexy mood and ready to move the action under the sheets.
Just like a flower needs to be nourished in order to grow, the same goes for couples and marriages. Otherwise, you are taking the risk of quickly becoming tired of each other and lose that burning desire, especially when it comes to what you do in bed at night...
What occurs in your psyche is similarly significant for getting turned on. Hearing your sweetheart whispering sexy expressions or groaning in your ear might increase the intensity so much that may give you one of the best orgasms you have ever had...
The demonstration of talking dirty is commonly the foreplay before the foreplay for sexual experiences. Dirty Talk will improve your sex life and cause you and your darling to feel sexier than at any recent time...