Real Greek at Home: Dishes from the Heart of the Greek Kitchen (Paperback)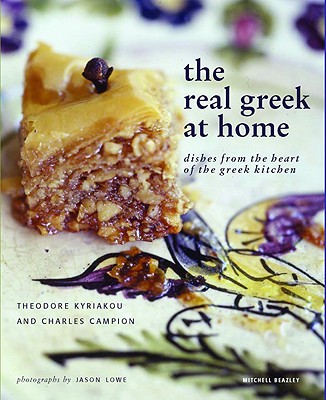 $19.95
Email or call for price
Description
---
Famed chef Theodore Kyriakou and Glenfiddich Restaurant Writer of the Year award-winner Charles Campion bring Greek food in all its glory to life. The recipes in this lusciously designed cookbook come from across Greece-the cities, the countryside, and the sea-and the offerings range from familiar grilled lamb and stuffed vine leaves to more exotic fare, such as eggs served with nettles and cheese. 
For Kyriakou, an Athenian, these dishes are about more than food for the stomach; they're also about food for the soul, and they evoke the experience of growing up in his beautiful and rugged native country. Anecdotes, myths, and vivid descriptions provide context for these recipes, and the ingredients, meals, and scenery are beautifully illustrated by Jason Lowe's stunning color photographs.
About the Author
---
Theodore Kyriakou was born in Athens and lives in London. He had a Greek upbringing before moving to London to work as a chef. He is now the chef/proprietor of the award-winning The Real Greek restaurant and of the The Real Greek Souvlaki, and was previously head chef at Livebait. He is the author of Real Greek Food (2000) and Livebait Cookbook (1998). Charles Campion is the previous winner of the Glenfiddich Restaurant Writer of the Year for his work in the Evening Standard. He co-wrote Real Greek Food.