It's All Too Much (Paperback)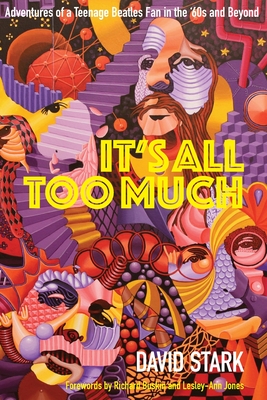 List Price: $19.99
Our Price: $17.99
(Save: $2.00 10%)
Usually Ships in 3-5 Days (Subject to Availability)
This title is NON-RETURNABLE.
Description
---
"It's All Too Much - Adventures of a Teenage Beatles Fan in the '60s and Beyond" is the unique memoir by music industry veteran David Stark, who grew up in north London during the 1960s as a dedicated Beatles fan and was lucky enough to meet his musical heroes on various memorable occasions. From gate-crashing the Yellow Submarine film premiere in 1968 (aged just fifteen) and ending up sitting directly behind the group, to meeting them individually in some extraordinary circumstances, Stark has some highly entertaining stories about his many Beatles encounters which have never been told before
Stark's stories don't end with the 1960s, as he continued to encounter all the individual Beatles into the 1970s and beyond, culminating in 2006 when Sir Paul McCartney inducted him as a 'Companion of LIPA' at the Liverpool Institute for Performing Arts for his work with songwriting students. He also knew the late Sir George Martin, who has his own chapter in the book, as does John Lennon's legendary Aunt Mimi, whom David visited and became friends with just months after Lennon's senseless murder in 1980.
Stark is also a life-long drummer who plays with the Trembling Wilburys tribute band, as well as having played with The Quarrymen on one memorable occasion. He was also responsible for the erection of an official Blue Plaque for the late Brian Epstein at his old offices next to the London Palladium; and was one of a small group who, in 2019, achieved the placing of a long-awaited Blue Plaque at 3 Savile Row to mark the Beatles' final live appearance on the roof of Apple in 1969.