The Ultimate Guide to Psychedelics (Paperback)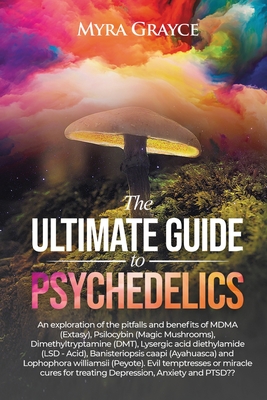 List Price: $19.99
Our Price: $17.99
(Save: $2.00 10%)
Usually Ships in 3-5 Days (Subject to Availability)
This title is NON-RETURNABLE.
Description
---
The Ultimate Guide to Psychedelics takes the reader on a journey of discovery, covering six of the most notorious psychedelic substances: MDMA or Ecstasy, psilocybin or magic mushrooms, LSD, DMT, the culturally and spiritually associated brew from the Amazon called ayahuasca, and its more Northern friend, peyote, or mescaline.
This book guides you through controversial histories, chemical structures, ground-breaking research, and information about newer methods of using these substances, such as microdosing. We'll dive deep into each drug so that by the end of this book, you can ultimately decide whether these substances are actually just misunderstood. We'll analyze historical and current accounts, clinical trials and their outcomes, recent legislative bans placed on these substances, and ultimately, the effects these substances have on the human body when used in both therapeutic settings and in recreational environments.
You'll find here everything you need to know about MDMA, psilocybin, LSD, DMT, ayahuasca, and peyote-gift-wrapped in multiple layers of mind-blowing facts and information about the history, controversy, and newly discovered healing potential of these drugs that have been hiding for more than half-a-decade. We have now entered the Psychedelic Renaissance. The more we learn about these mind-altering substances and their potential, the easier it will be to understand this movement's relevance in the health industry.