Fashion Coloring Book For Girls: Fashion Fun Coloring Pages For Girls and Kids With Gorgeous Beauty Fashion Style & Other Cute Designs (Coloring Books (Paperback)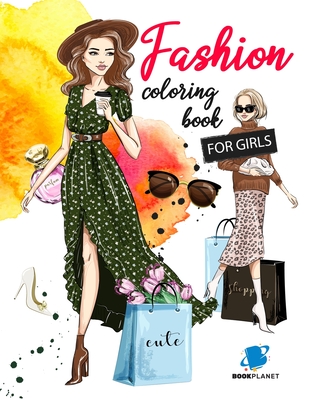 List Price: $8.99
Our Price: $8.09
(Save: $0.90 10%)
Description
---
This Coloring Book for Girls is the BEST GIFT IDEA FOR FASHION LOVERS

Let your kid's creativity run wild
Original Artist Designs, High Resolution
♥ A Gorgeous Fashion Coloring Book For Kids Ages 4+
This groundbreaking coloring book is all about building a girl's confidence and imagination The 60+ coloring pages encourage girls to think beyond social conventions and inspire conversations with adults.
Features & Highlights:
Whimsical black-and-white line drawings explore concepts like beauty, bravery, strength, creativity, independence and more.
♥ Based on studies showing that coloring books can combat stereotypes and positively impact girls'.
Designed to build confidence in girls age 4+, while giving them an opportunity to express themselves creatively.
A Great Gift for Any Girl
If you're looking for an activity for your, preschooler, kindergartner, school-aged child, or adults, this cute and positive book helps build confidence while inspiring and entertaining them. It's a fun and mess-free way to engage in arts and crafts for girls age 4, 5, 6, 7, 8, 9, 10, and up to 100: )
♥ Simple and Beautiful Illustrations
This book features whimsical doodles, including: nature scenes, trees, flowers, animals, cats, a gardening scene, plants, dancing, dogs, an exploration of inner beauty and much, much more
A Large Coloring Book for Girls with Quality Paper for Drawing, Doodling, Painting, School and Home.
★ Good quality paper.
★ Best for crayons, colored pencils, watercolor paints, and very light fine tip markers.
★ Extra large size (8.5" x 11"). 62 pages.
★ Premium design.
★ There is plenty of room inside for drawing and doodling.
♥ Beautiful cover.
♥ Perfect for Artists