Flesh & Blood: Reflections on Infertility, Family, and Creating a Bountiful Life: A Memoir (Hardcover)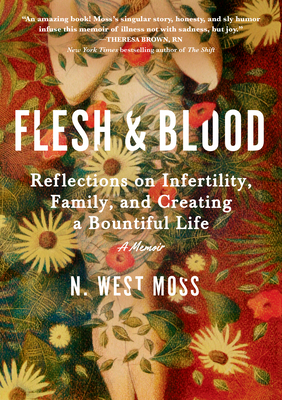 Description
---
Honest, warm, and witty, this memoir reads like a chat with a dear friend sharing her insight and her vulnerabilities and taking us along as she heals. Complete with family stories over cocktails and a new friend named Claude, who happens to be a praying mantis.

"I drive and say to myself, if I am dying, if this is how I die, then this is how I die." When N. West Moss finds herself bleeding uncontrollably in the middle of a writing class, she drives herself to the hospital. Doctors are baffled, but eventually a diagnosis—hemangioma—is determined and a hysterectomy is scheduled. We follow Moss through her surgery, complications, and recovery as her thoughts turn to her previous struggles with infertility, to grief and healing, to what it means to leave a legacy.

Moss's wise, droll voice and limitless curiosity lift this beautiful memoir beyond any narrow focus. Among her interests: yellow fever, good cocktails, the history of New Orleans, and, always, the natural world, including the praying mantis in her sunroom whom she names Claude. And we learn about the inspiring women in Moss's family—her mother, her grandmother, and her great-grandmother—as she sorts out her feeling that this line will end with her. But Moss discovers that there are other ways besides having children to make a mark, and that grief is not a stopping place but a companion that travels along with us through everything, even happiness.

With public figures like Chrissy Teigen and Meghan, Duchess of Sussex, speaking out about infertility recently, women are eager for voices that acknowledge their struggles. Fans of Lena Dunham, Leslie Jamison, and Jenny Lawson—along with readers of medical memoirs like When Breath Becomes Air and The Bright Hour—will find that connection in Moss's Flesh & Blood.
About the Author
---
N. WEST MOSS is the author of the story collection The Subway Stops at Bryant Park. Her essays and short stories have appeared in the New York Times, Salon, McSweeney's, and many other publications. The recipient of three William Faulkner–William Wisdom gold medals and winner of the Saturday Evening Post 's Great American Fiction Contest, she holds an MFA in creative writing and a certificate in narrative medicine from Columbia University. She works in New Jersey, where she lives with her husband.
 
Praise For…
---
"An engaging, even charming memoir . . . It feels like Moss is taking our hands and allowing us to accompany her on this journey. Her careful, lovely sentences and good-humored and thoughtful observations seem to be . . . part of her healing . . . This inviting memoir lights a path through grief and illness."
— Kirkus Reviews, starred review

"Moss's meditations on questions her experience have raised are full of calm maturity and quiet humor and give this book an appeal beyond its expected audience . . . Moss's contemplations on life in general will resonate with women who are seeking peace and meaning in their own lives."
— Library Journal

"Flesh & Blood sparks and consoles. So frank and warm and full of humor, this book became a friend to me. I want to keep its tenderness and stunning wisdom always as my guide."
—Jackie Polzin, author of Brood
 
"N. West Moss is an exemplary talent. The words come alive on the page. You feel as though you are living inside this luminous book." —Luis Alberto Urrea, author of The House of Broken Angels

"[A] powerful account of [Moss's] decades-long battle with infertility . . . In poetic language that's by turns blunt and tender, Moss chronicles how she and her husband weathered their sorrow and surfaced from it, dignity still intact, their love 'made up of the things we couldn't give to one another, but also full of how hard we tried.' This is as an enriching addition to the canon of literature around infertility."
—Publishers Weekly
  "N. West Moss doesn't romanticize our world; she loves it honestly, in all its messiness. As I read Flesh & Blood I saw not only that world but also the human body anew. This memoir is a tender, elegant, wry meditation on being a woman, being sick, and recovering; on reading and nature; on loving foremothers and rendering them into history with word rather than womb."
—V.V. Ganeshananthan, co-host, "Fiction/Non/Fiction" podcast, Literary Hub, and author of Love Marriage

"Part journey into the dark crevices of illness, but also a paean to the joys of the daily world, N. West Moss opens her arms wide and embraces the reader with her brilliant—and hilarious—observations. This book uncovers the wonderful 'brightness in the middle' for anyone who has navigated medical puzzles, grief, or just . . . life."
—Marie Myung-Ok Lee, author of Somebody's Daughter
 
"N. West Moss brings us on a journey that is both medical and spiritual. We experience the vertiginous churn of diagnosis and treatment, but also the liberating clarity of connection with the world. Honest, thoughtful, and courageous."
—Danielle Ofri, MD, PhD, author of When We Do Harm: A Doctor Confronts Medical Error
 
 "A captivating, multilayered story of perseverance. It turns out that the real subject of Flesh & Blood is not so much illness as the author's ever-regenerating powers of vision, her appreciation of the tangible world, the beauty of the here and now."
—Zachary Lazar, author of Vengeance
 
"An amazing book! Moss has a gift for describing stones, plants, celery soup and even praying mantises as needed accompaniments to sickness and recovery, along with her kind husband and generous mother. Her singular stories, honesty, and sly humor infuse this memoir of illness not with sadness, but joy."
—Theresa Brown, New York Times bestselling author of The Shift

"With a series of gentle incisions, this memoir cuts deep. Moss shows us a grief and gladness that, until now, we could not name."
—Martha Witt, author of Broken As Things Are