Need to Succeed (Paperback)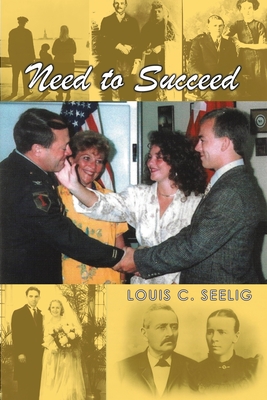 $9.99
Usually Ships in 3-5 Days (Subject to Availability)
This title is NON-RETURNABLE.
Description
---
This historical epic is a narrative of significant chronological events that occurred in my ancestor's lives, my family member's lives, and my own life. Some parts read like a novel, others a series of essays and others like short stories told by relatives reminiscing around a fireside. Still, it all flows smoothly into a single story of how four families, united over three generations, formed a single family. It explains why my ancestors decided to leave their homelands of Germany, France and Ireland and move to America, and how they overcame many adversities. And finally, it tells of how my ancestor's determination and courage was handed down to me.
This story presents a full social account of the characters: a history that traces the progress of social life in the dealings of the families, the various changes in the habits and occupations of individuals, and the improvements in domestic life that created conditions and made circumstances better for the families over time. It also expresses these people's values and beliefs, which contributed to their ability to succeed and adjust to the changes and challenges that confronted them. It is a chronicle of occurrences in which significant events are commemorated, demonstrating the historical changes that occurred over a period of one hundred fifty years.
The main characters in this story are, or were, real people; however, the personages of my distant ancestors are, in part, the creations of my imagination. As such, they may appear fictional. Unfortunately, I do not have the means of learning, to any great extent, how my distant ancestors were fed, lodged and clothed, nor what the workings of their daily lives were actually like. I can only surmise their attitudes and actions based on family folklore and available historical facts. I wish I could see more, know more, about their day-to-day routines.
What I offer here is simply my best effort to portray my ancestors in the way I believe they lived. In so doing, I have included sections of dialogue, based in part on letters written at the time, embellished by colloquies in order to bring each character alive for the reader. My portrayal of main characters is consistent with general truth and fidelity; the dialogue is intended only as an illustration, or ornament. I have also included descriptions, actions and perceptions of a few people who are not real, but who are typical of local citizens that could be found in each time period and historical setting. Even though they did not actually exist, they might have.
I have attempted to place the actions and perceptions of characters in an attractive and interesting light, rejecting what is improper and needless, and to fill the picture with real, just and well-drawn images. I wanted to recite events with truth and accuracy, while presenting the people that this story is about in an interesting manner. I may have embellished, but I've not misrepresented. I may have colored too highly, but the truth is still visible through the shading.