Saucy and Bubba: A Hansel and Gretel Tale (Hardcover)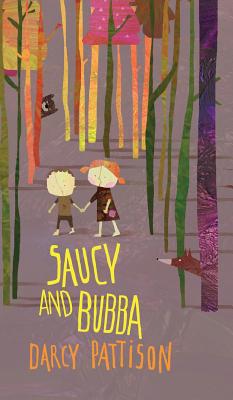 List Price: $23.99
Our Price: $21.59
(Save: $2.40 10%)
Usually Ships in 3-5 Days (Subject to Availability)
This title is NON-RETURNABLE.
Description
---
COMPELLING AND ULTIMATELY HOPEFUL STORY
In this modern-day Hansel and Gretel story, Saucy and Bubba struggle to get along with Krissy, their alcoholic stepmother. One freezing cold night, Krissy locks Saucy out of the house and Saucy must sleep in the barn. In a desperate move, Saucy and Bubba run away to their aunt's house-except Aunt Vivian isn't home. Trying to take care of Bubba for several days forces Saucy to take charge of her own life and accept a terrible sacrifice in order to find safety for herself.

This middle grade novel is a heartbreakingly simple story that weaves through the tangled threads of a family and builds to an ending full of hope. Author Darcy Pattison recently wrote about the need for books about troubled families on the Children's Book Council Diversity blog.

Stories like this one carry a certain darkness, even if the events carry the weight of truth. It's in the tradition of Dicey's Song by Cynthia Voigt, and The Great Gilly Hopkins by Katherine Paterson. Both of these award-winning books tell of painful truths, but they manage to do so with respect for the child reader. I especially like Paterson's statement that she always ends her stories with a note of hope. Fortunately, Saucy's story also ends with hope that the family will work things out and come back together

Join Saucy and Bubba in their poignant search for family.

WHY DID YOU WRITE THIS BOOK?

I've always been fascinated by the Hansel and Gretel story, and I thought I could add to the conversation about step-families, especially when the step-parent has addiction problems. Children struggle to find their place in a new configuration of family and that can be infinitely complicated by alcohol or drugs.

I also like that it has the fantasy/folk element to the story. Bringing the story into the modern century was fun. Rethinking the responses of today's families ultimately led me to a story of hope.

HOW DOES THIS STORY UPDATE HANSEL AND GRETEL?

Like the folk tale, this is a story of a brother and sister who stick together in the midst of family problems. Krissy, the step-mother, bakes gingerbread houses as display pieces for a local bakery. It was fun adding other elements of the story such as a path of white stones that will bring the family back together.

The basic elements of the folk tale are intact, but are embodied in fully-fleshed out characters leaving this as a poignant story that will linger in your heart long after you close the book.