Breathe, Mama, Breathe: 5-Minute Mindfulness for Busy Moms (Paperback)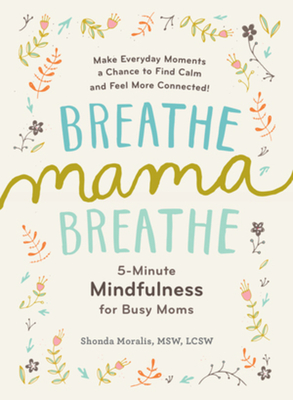 Description
---
A "Mom Must-Read"—Parents A National Parenting Product Award (NAPPA) WinnerEasy-to-follow practices that will help moms find quick, daily opportunities to reset and refocus with mindfulness
Moms can feel as if they are sprinting through life, crashing onto the pillow at day's end only to start again the next morning. In
Breathe, Mama, Breathe
, psychotherapist Shonda Moralis outlines the benefits of daily meditation and shows moms how to do it—in just five minutes! Plus, she shares over 60 "mindful breaks" that will help moms tune into their own well-being (along with everyone else's):  
Eat a mindful breakfast—with no phone, TV, or newspaper!
Cuddle your child and take three deep breaths together.
Give yourself a mindful-mommy high five—because moms can use positive reinforcement, too.
Every mom—whether caring for a new baby, an overscheduled grade-schooler, or an angsty teen—can become a mindful mama!
About the Author
---
Shonda Moralis, MSW, LCSW, is a psychotherapist in private practice specializing in stress-related disorders and mindfulness-based therapy. She writes the Psychology Today blog Breathe, Mama, Breathe. Shonda has developed mindfulness courses for adults and children. She lives in Pennsylvania's Lehigh Valley.
Praise For…
---
"Moralis's suggestions strike an effective and empowering note."—Publishers Weekly

"With more than 60 mindful breaks that help moms tune into their own well-being, you will also learn the benefits of meditation and how to quickly and easily master it. Take five and reset."—Washington Parent

"Learn the basics of daily meditation and the ways it can help you keep your cool in this how-to guide."—Pregnancy Newborn

"Breathe, Mama, Breathe is a breath of fresh air for stressed-out moms. At once practical and creative, author Shonda Moralis offers easy-to-use mindfulness tools and strategies for real-life moms needing peace, calm, and centering—along with a dash of compassion and humor that comes from her own experiences as both a mom and a long-time mindfulness expert. This is an excellent and much needed book!"
—Donald Altman, MA, LPC, author of Clearing Emotional Clutter, One-Minute Mindfulness, and The Mindfulness Toolbox

"Breathe, Mama, Breathe is a fun, practical guide to paying attention. Shonda Moralis shows us that mindfulness isn't about finding more time in the day—it's about savoring the moments we have."
—Leigh Ann Henion, New York Times-bestselling author of Phenomenal: A Hesitant Adventurer's Search for Wonder in the Natural World

"Breathe, Mama, Breathe is filled with wise, helpful, and perhaps most importantly, totally doable practices for busy mothers. I'm so grateful Shonda wrote this gem of a book!"
—Carla Naumburg, PhD, author of Ready, Set, Breathe: Practicing Mindfulness with Your Children for Fewer Meltdowns and a More Peaceful Family

"Through honest, relatable, and often hilarious stories from her real life as a parent and professional, Shonda Moralis helps busy mamas everywhere understand the physical, emotional, and social benefits of consistent mindfulness practice. With dozens of practical, realistic ways to incorporate mindfulness into even the busiest of schedules, this is a book I will use over and over again!"
—Signe Whitson, LSW, author of 8 Keys to End Bullying: Strategies for Parents and Schools and How to Be Angry: An Assertive Anger Expression Group Guide for Kids Teens

"Packed full of practical, totally doable mindfulness practices that can fit seamlessly into anyone's daily routine, Breathe, Mama, Breathe offers effective ways to become more present and mindful—sending all of your excuses right out the window. This is not just a helpful resource; beautifully readable and wise, it's essential reading for every mom (and dad!) trying to navigate parenting—and daily life—in a mindful way."
—Kira Willey, award-winning songwriter kids' yoga expert, creator of Rockin' Yoga school programs, and author of the upcoming children's book Back Seat Yoga (Rodale)