Awaken Every Day: 365 Buddhist Reflections to Invite Mindfulness and Joy (Paperback)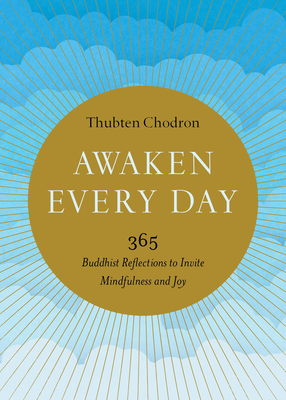 Description
---
Daily dharma teachings on compassion, wisdom, mindfulness, and joy--ideal for creating moments of peace and reflection in our chaotic world.

Awaken Every Day shares a quick dose of everyday wisdom, encouraging us to understand the true causes of our suffering and the paths to freedom. These insightful reflections help us understand our minds, our connections to our communities, and how to become the people we aspire to be.
About the Author
---
Venerable Thubten Chodron is an author, teacher, and the founder and abbess of Sravasti Abbey, a Tibetan Buddhist monastery in Newport, Washington. Ordained as a Buddhist nun in 1977 and a close student of His Holiness the Dalai Lama for over forty years, Venerable Chodron teaches worldwide. She is the author of numerous books, including Buddhism for Beginners and, with the Dalai Lama, Buddhism: One Teacher, Many Traditions.
Praise For…
---
"A wise and beautiful collection of reflections that provide a daily reminder of what's true, what's real, and what matters."—Daniel Gilbert, Harvard University, author of Stumbling on Happiness
 
"We all want to deepen our understanding of life and to expand our insight and compassion. Thubten Chodron reminds us that practice isn't just what we do on the meditation cushion. Our mindfulness must extend to whatever is going on in our minds throughout the day. The brief daily reflections in Awaken Every Day provide helpful and practical tools to accomplish just that."—Sharon Salzberg, author of Lovingkindness and Real Love

"A treasure chest of sound advice to start each day with inspiration. A welcome addition to anyone's calendar."—Alexander Berzin, author of studybuddhism.com
 
"Whether your goal is awakening or simply to have a happy, healthy life, this pithy compendium of Buddhist wisdom is an excellent guide. Perhaps no one is better than Venerable Thubten Chodron at presenting this ancient wisdom in clear ways that make it easy to understand and apply in the everyday moments of our lives. Make this wonderful book a part of your every day, and watch your life transform. Highly recommended!"—Russell Kolts, Eastern Washington University, author of The Compassionate Mind Guide to Managing Your Anger