The Graphic Canon of Crime & Mystery Vol 2 (Paperback)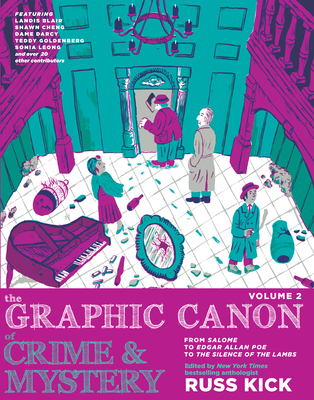 List Price: $29.95
Our Price: $26.96
(Save: $3.00 10%)
On Our Shelves Now (Subject to Availability)
Description
---
Here are Teddy Goldenberg's dense, murky treatment of Dashiell Hammett's "The Road Home," often considered the first hard-boiled detective story ever published. Shawn Cheng renders the first serial-killer story, the so-called fairy tale "Bluebeard" by Charles Perrault. Landis Blair reimagines The Trial as a choose-your-own-adventure story that you cannot win. Plus twenty-three other contributors using a wide range of illustrative styles.

As with previous volumes in the Graphic Canon series, the illustrations run the full gamut of media and techniques, and artistic interpretations range from verbatim literalism to metaphorical extensions to surrealism and abstraction. The common theme, tracing the origins and standout texts of the morbid and mysterious, unites these multifarious partners in crime.
About the Author
---
RUSS KICK is the originator of the Graphic Canon series, for which he has commissioned new work from over three hundred artists, now going into its sixth volume. The New York Times selected The Graphic Canon Volume 1 as an Editor's Choice, and School Library Journal has called the series "startlingly brilliant." Kick's nonfiction anthologies, including You Are Being Lied To and Everything You Know Is Wrong, informed a whole generation of Americans about the hard truths of American politics. He created a media frenzy for being the first to publish suppressed photographs of American flag-draped coffins returning from Iraq. The New York Times dubbed Kick "an information archaeologist," Details magazine described him as "a Renaissance man," and Utne Reader named him one of its "50 Visionaries Who Are Changing Your World." His popular website AltGov2.org is active again and getting national media coverage for archiving documents that the Trump Administration has been deleting.
Praise For…
---
"Featuring adaptations of famous crime classics, most of which were created specifically for this volume, this work displays a range of absolutely stunning talent. From a relatively straight­forward depiction of the murder scene in Fyodor Dostoyevsky's Crime and Punishment to a wildly experimental take on Stanley ­Kubrick's A Clockwork Orange, [Russ Kick] presents a fantastic survey of the literature concerned with criminal activity, as well as a primer on everything possible in the graphic format. ... As an introduction to the crime genre, this edition is second to none." —Library Journal

"From Poe to Kafka to Dostoyevsky, all the masters are here, in these short, graphic renderings of the darkest, most foreboding writing of all time. With different artists and illustrators taking on each tale, there are many revelations." —New York Times Book Review, New & Noteworthy

"[Russ Kick] has managed to create something unprecedented in comic art ... It is, for now, the most sustained anthology of comic art in the English language – the best showplace of what comic art is today and what it can do. That's quite an accomplishment." —Paul Buhle, Los Angeles Review of Books

"Almost anything can be seen as a crime story, and almost anything can be adapted into a graphic novel. Few, however, have attempted such an ambitious and quirky melding of these two truths as editor and artist Russ Kick with his new anthology, The Graphic Canon of Crime and Mystery. This cleverly arranged series of graphic adaptations of classic mystery tales brings together a wide range of artists matched with a diverse list of stories, many of which are only loosely categorizable as crime fiction (that's part of the fun of it). With everything from biblical judgements to decadent poetry to 19th century classics, Kick and his army of artists have crafted a formidable and fascinating collection." —Molly Odintz, Lit Hub

"This is a take on the crime & mystery genre that proves quite refreshing and a true eye-opener. Russ Kick, in the role of curator/editor, has taken an offbeat path in order to emphasize just how diverse and unpredictable his subject can be. ... Kick manages to keep just the right unsettling vibe running throughout this impressive anthology." —

"Edited by Russ Kick, this newest installment in the Graphic Canon series is perfect for anyone who loves classic mysteries. The new works commissioned for this book offer an intriguing, enjoyable look into many well-known crime stories. The styles of the adaptations are as diverse as the artists featured. . . The Graphic Canon of Crime and Mystery Volume 2 is one killer book." — Portland Book Review