Strapless: John Singer Sargent and the Fall of Madame X (Paperback)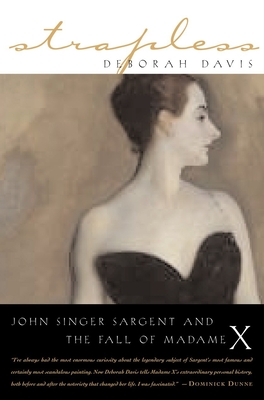 Description
---
The subject of John Singer Sargent's most famous painting was twenty-three-year-old New Orleans Creole Virginie Gautreau, who moved to Paris and quickly became the "it girl" of her day. A relative unknown at the time, Sargent won the commission to paint her; the two must have recognized in each other a like-minded hunger for fame.

Unveiled at the 1884 Paris Salon, Gautreau's portrait generated the attention she craved-but it led to infamy rather than stardom. Sargent had painted one strap of Gautreau's dress dangling from her shoulder, suggesting either the prelude to or the aftermath of sex. Her reputation irreparably damaged, Gautreau retired from public life, destroying all the mirrors in her home.

Drawing on documents from private collections and other previously unexamined materials, and featuring a cast of characters including Oscar Wilde and Richard Wagner, Strapless is a tale of art and celebrity, obsession and betrayal.
About the Author
---
Deborah Davis is the author of Party of the Century: The Fabulous Story of Truman Capote and his Black and White Ball (Wiley, April 2006), and Strapless: John Singer Sargent and the Fall of Madame X (Tarcher/Putnam, 2003). Her most recent book is The Secret Lives Of Frames: One Hundred Years of Art and Artistry (Filapacchi, 2007).
Praise For…
---
"Readers will enjoy this brisk, sometimes breathless account of the creation of the work the artist once called his best...A fascinating commentary on the evanescence of fame and beauty." --
Kirkus Reviews
"An entertaining, observant novel about the gorgeous, enigmatic Madame X."
--from Bustle.com's roundup of "11 Novels Every Art History-Lover Should Pick Up"
"A stunner about a stunner." —
The Philadelphia Inquirer
"The book's pace is lively and its breadth impressive." —Houston Chronicle