The Magic of Marie Laveau: Embracing the Spiritual Legacy of the Voodoo Queen of New Orleans (Paperback)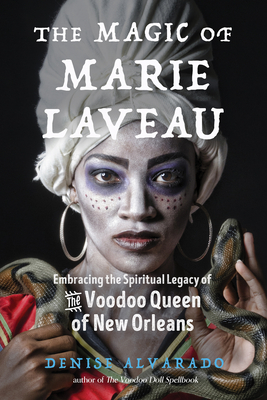 List Price: $16.95
Our Price: $15.26
(Save: $1.70 10%)
Usually Ships in 3-5 Days (Subject to Availability)
Description
---
The life and work of the legendary "Pope of Voodoo," Marie Laveau—a free woman of color who practically ruled New Orleans in the mid-1800s
Marie Laveau may be the most influential American practitioner of the magical arts; certainly, she is among the most famous. She is the subject of songs, films, and legends and the star of New Orleans ghost tours. Her grave in New Orleans ranks among the most popular spiritual pilgrimages in the US. Devotees venerate votive images of Laveau, who proclaimed herself the "Pope of Voodoo." She is the subject of respected historical biographies and the inspiration for novels by Francine Prose and Jewell Parker Rhodes. She even appears in Marvel Comics and on the television show American Horror Story: Coven, where she was portrayed by Angela Bassett.
Author Denise Alvarado explores Marie Laveau's life and work—the fascinating history and mystery. This book gives an overview of New Orleans Voodoo, its origins, history, and practices. It contains spells, prayers, rituals, recipes, and instructions for constructing New Orleans voodoo-style altars and crafting a voodoo amulet known as a gris-gris.
About the Author
---
Denise Alvarado was born and raised in the rich Creole culture of New Orleans, Louisiana. She has studied indigenous healing traditions from a personal and academic perspective for over four decades. She is the author of numerous books about Southern folk traditions. She is a rootworker in the Louisiana folk magic tradition, a spiritual artist, and a teacher of Southern conjure at Crossroads University. Learn more at www.creolemoon.com.
Praise For…
---
"Anthropologist and Louisiana folk magic "rootworker" Alvarado (The Voodoo Doll Spellbook) rejects the sensational accounts of voodoo queen Marie Laveau (1801–1881) to present a comprehensive, intensely researched, and imminently readable narrative of her life and spirituality. The book contains spellwork, including candle magic, Catholic conjure, fetishism, gris gris, and water rituals—for purposes including keeping a lover, finding a lost person, healing, and attacking enemies. This insightful resourceful is a thorough examination of Laveau's legendary status and will be an invaluable reference for devotees of the Laveau voodoo tradition." - Publishers Weekly (Starred Review)
— Publishers Weekly

"Denise Alvarado has successfully combined both history and practical magic into one accessible book, making it possible for those far and wide to reach the Great Queen. The Magic of Marie Laveau brings Marie Laveau to life" - Voodoo Queen Bloody Mary, author of Bloody Mary's Guide to Hauntings, Horrors, and Dancing with the Dead: True Stories from the Voodoo Queen of New Orleans
— Voodoo Queen Bloody Mary

"The Magic of Marie Laveau is the ideal blend of the academic and the mystical. Denise Alvarado creates a historic understanding of how Mlle. Laveau not only shaped the traditions and culture of New Orleans Voodoo but also influenced all Hoodoo and Conjure practices around the world. Through the biography of Mlle. Laveau, Alvarado teaches that your daily spiritual practice and compassionate works are integral to your magical prowess.  There is so much to learn in this book, reading it a second and third time is a must." - Jacki Smith, author of Coventry Magic with Candles, Oils, and Herbs, founder of Coventry Creations.
— Jacki Smith

"This book will become definitive in the continually growing legacy of the greatest Voodoo Queen of New Orleans.A must have for your collection and a truly wonderful read." - Witchdoctor Utu, author of Conjuring Harriet "Mama Moses" Tubman and the Spirits of the Underground Railroad.
— Witchdoctor Utu

"This book is a celebration of the divine feminine as it manifests in a much-misunderstood form of spirituality. Denise Alvarado's love for Marie Laveau's work is evident. I am sure that Marie Laveau, the Mother of New Orleans Voodoo, returns the sentiment." - Louis Martinié, author of The New Orleans Voodoo Tarot and Waters of Return: The Aeonic Flow of Voudoo.
— Louis Martinié

"New Orleans native Denise Alvarado brilliantly crafts a spiritually delicious reference book combining extensive historical research with a lifetime of personal experiences! Filled with snippets from the past, pearls of wisdom, and a detailed outline of Alvarado's "Laveau Voudou" tradition to which many readers will feel an immediate connection,The Magic of Marie Laveau is a valuable addition to any practitioner's bookshelf, especially those called to serve." - Cairelle Crow, founder and coordinator of the New Orleans Witches' Ball
— Cairelle Crow

"Whether you're a Marie Laveau devotee or are only beginning to learn about her, this is the book for you!  Brimming with little known facts about her life, her relationships, and her charitable works, The Magic of Marie Laveau is much more than a well-researched biography.  It also offers a plethora of valuable information for magical practitioners, including detailed instructions for not only working with her spirit, but for performing many of the rituals and spells for which she is known.  Reading this book truly changed my life – and I have no doubt that it will change yours as well." - Dorothy Morrison, author of Utterly Wicked
— Dorothy Morrison

"The Magic of Marie Laveau includes practical workings and "gris-gris" that provide a "hand up" to the reader in addition to lyrically presented and well-informed information about Ms. Laveau and the world in which she walked." - Sallie Ann Glassman, author of Vodou Visions: An Encounter with Divine Mystery
— Sallie Ann Glassman