It Won't Be Easy: An Exceedingly Honest (and Slightly Unprofessional) Love Letter to Teaching (Paperback)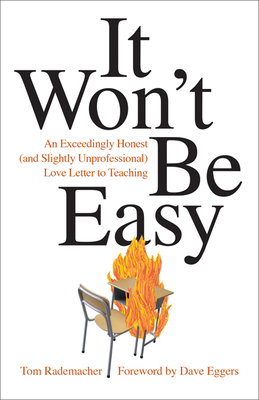 List Price: $17.95
Our Price: $16.16
(Save: $1.80 10%)
Usually Ships in 3-5 Days (Subject to Availability)
Description
---
Tom Rademacher wishes someone had handed him this sort of book along with his teaching degree: a clear-eyed, frank, boots-on-the ground account of what he was getting into. But first he had to write it. And as 2014's Minnesota Teacher of the Year, Rademacher knows what he's talking about. Less a how-to manual than a tribute to an impossible and impossibly rewarding profession, It Won't Be Easy captures the experience of teaching in all its messy glory.
The book follows a year of teaching, with each chapter tackling a different aspect of the job. Pulling no punches (and resisting no punch lines), he writes about establishing yourself in a new building; teaching meaningful classes, keeping students a priority; investigating how race, gender, and identity affect your work; and why it's a good idea to keep an extra pair of pants at school. Along the way he answers the inevitable and the unanticipated questions, from what to do with Google to how to tell if you're really a terrible teacher, to why "Keep your head down" might well be the worst advice for a new teacher.
Though directed at prospective and newer teachers, It Won't Be Easy is mercifully short on jargon and long on practical wisdom, accessible to anyone—teacher, student, parent, pundit—who is interested in a behind-the-curtain look at teaching and willing to understand that, while there are no simple answers, there is power in learning to ask the right questions.
About the Author
---
Tom Rademacher is an English teacher in Minneapolis. His writing has appeared in EdPost, MinnPost, and on his blog, Mr. Rad's Neighborhood, and he speaks about teaching at universities, conferences, and TEDx events. In 2014 he was honored as Minnesota's Teacher of the Year.
Dave Eggers is author of ten books, including, most recently, Heroes of the Frontier. He is the founder of McSweeney's, an independent publishing house in San Francisco, California, and cofounder of 826 National, a network of eight tutoring centers around the country. 
Praise For…
---
"Besides the fact that it is truly laugh out loud funny, this book stands in for what so many teachers need: the teacher-friend whose room you can stomp into when you need empathy over your lack of coolness; the friend who will make you feel better about the mistakes you made, who will celebrate your crazy schemes, who will help you find your reasons why you need to come back when you want to quit. That kind of friend is a rare and precious person who doesn't exist on many campuses, so thank God that Tom gave us one in book form that's portable enough to take wherever we need companionship."—Shanna Peeples, 2015 National Teacher of the Year
"In a breath of fresh air called Tom Rademacher, we get that desperately needed voice of a teacher who loves his kids enough to challenge us to think differently. It Won't Be Easy gets us into the classroom and on the path to new ways of educating and valuing the next generation."—R.T. Rybak, former mayor of Minneapolis, President and CEO of The Minneapolis Foundation, and author of Pothole Confidential: My Life as Mayor of Minneapolis
"Rademacher does not hold back... his honest, inspiring, and often humorous book will appeal to teachers, future teachers, and those interested in education."—Booklist
"Many of these narratives are studded with insights into the art of teaching."—Library Journal
"Rademacher's classroom wisdom is suitable for anyone who is trying to communicate effectively with children, especially adolescents."—Pioneer Press