Breaking Porn Addiction Through Rewiring Your Brain: Neuroplasticity forges new brain patterns, giving hope and help no matter how deep the habit (Paperback)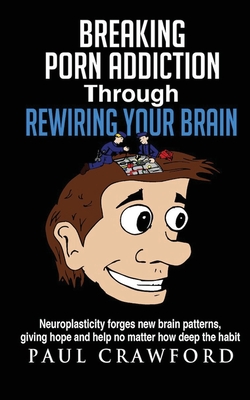 $10.99

Usually Ships in 3-5 Days (Subject to Availability)
This title is NON-RETURNABLE.
Description
---
EMPOWER YOURSELF AS YOU UNDERSTAND YOUR PORNOGRAPHY ADDICTION, AND DISCOVER HOW TO FIND A WAY OUT OF IT
Read on your PC, Mac, smart phone or Kindle device.
This book will start you on your journey to recovering from your pornography addiction. This is for those who want to understand why this addiction holds them (or others) captive, and how to find a way out. It is a book that will give you hope as you not only understand pornography addiction, but also learn empowering strategies to challenge and overcome the mind-sets that support it. In this book we discuss rewiring your brain, and the term neural bonding is introduced. We will show how changing neural bonding, not just using 'try harder', is the key to success in breaking this bondage. This is an easy to read, and incredibly helpful book. The aim of this ebook is to not only help you understand what is going on under the surface, but to also give practical strategies to give you hope and a road to recovery. "Paul Crawford has done a great job in bringing clarity to a difficult topic in this easy to read book. It will be a powerful, practical, and vital tool in the hands of men, many of whom are desperate for a way of escape from the vice-like grip of porn addiction. This book is realistic, doable, non-judgmental, full of hope, and backed up by years of successful experience." Pastor Tak Bhana Church Unlimited Running With Fire Auckland, New Zealand "At last, a book to help men in an area that is increasingly more common. I pray for so many men with issues around porn, and to be able to recommend a wonderful tool like this is fantastic." Geoff Wiklund Senior Pastor, Eden Assembly of God Promise Keepers, Board Member Auckland, New Zealand "Paul Crawford's book Breaking Pornography Addiction is both a description of the techniques used to help men overcome addiction to pornography, and a guide for those men who are seeking to be freed from this obsession. Included are descriptions of various ways men may become infatuated with pornography... and techniques used to effect freedom from this addiction. The book balances straight forward explanations of the science and psychology of treatment with helpful tips and guidance for the reader. It provides hope for those who may find their circumstances hopeless because of this powerful threat to their wellbeing." Cecil D. Price, MD Director Wake Forest University Student Health Service Winston-Salem, NC 27109 USA Here Is A Preview Of What You'll Learn
Magnitude Of The Problem
Why Do I Do It - What's In It For Me?
The Justification Factor - The Role Of The Subconscious
Misbeliefs That Support The Addiction
Mental Fusions - Triggers And The Slippery Slope
Willpower Is Needed But Is Not Enough In Itself
Society No Longer Provides The Invisible Barrier
The Way Into Personal Freedom - A Strategy For Moving Forward
Take action right away to start your empowering journey today by buying this book, "Breaking Porn Addiction Through Rewiring Your Brain" Tags: Pornography addiction, addictions, addiction recovery, internet pornography, neuroplasticity, brain rewiring, overcoming addiction, neural bonding.