Betty Boop's Guide to a Bold and Balanced Life: Fun, Fierce, Fabulous Advice Inspired by the Animated Icon (Hardcover)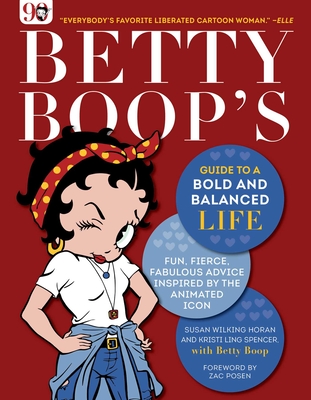 List Price: $19.99
Our Price: $17.99
(Save: $2.00 10%)
Description
---
"Everybody's favorite liberated cartoon woman." 
—
ElleClassic and loveable Betty Boop is as fashionable, inspiring, and popular as ever!
If there's one thing Betty knows, it's how to make a lasting impression. For more than 80 years, the glamorous international icon has sung, sashayed, and "Boop-Oop-a-Dooped" past rules and conventions, unafraid to take risks or set trends, and proving time after time that she can do anything she sets her mind to! Betty is beloved by millions of fans around the world, who are enchanted not only by her adorable appearance and iconic phrase, but also by her wit, inspiring messages, and ahead-of-her-time wisdom. 
Here the authors take ten empowering and universally inspiring themes pulled directly from the classic Fleischer Studios Betty Boop cartoons and demonstrate why they're more relevant than ever in today's world by blending them with modern images and timeless wisdom and advice. All-encompassing topics include:  
Self-confidence
Positive thinking
Independence
Kindness
Healthy living
And more!
Youthful, ambitious, sassy, and confident, Betty Boop seeks to make a positive change in the world around her. She is vibrant and magnetic—she 
inspires
. Betty is stylish and sexy, but never to please anyone but herself. She's got class. She's proud of who she is and won't apologize for it, approaching life with irrepressible moxie. And with her daring look, can-do attitude, and irresistible charm, Betty is ready for anything that comes her way.
About the Author
---
Susan Wilking Horan is an author, attorney, and businesswoman who with her husband Mark Fleischer, CEO & President of Fleischer Studios, and their business partners, has catapulted Betty Boop from the worlds of animation and Hollywood history into the real-life world of Betty fans in 58 countries across the globe. In addition to her accomplishments at Fleischer Studios, Susan is a three-time cancer survivor, a champion of women's health and wellness, an Amazon bestselling author of The Single Source Cancer Course, a blogger, speaker, and outspoken advocate for the rights, wellbeing, and empowerment of women everywhere. Visit her online at SusanWilkingHoran.com. She resides in Los Angeles.

Kristi Ling Spencer is a writer, inspirational speaker, branding expert, and happiness strategist who works to help others create a firm foundation for joy, well-being, and living a magical life. She has been featured in numerous media outlets, including Women's Health, Reader's Digest, Entrepreneur, Mashable, CNN, Fox News, Woman's Day, and The Huffington Post. She connects thousands of followers daily on social media with her inspirational messaging. Her acclaimed first book, Operation Happiness: The 3-Step Plan to Creating a Life of Lasting Joy, Abundant Energy, and Radical Bliss, was chosen by Success Magazine as one of the best books to make you successful. Connect with her at kristilingspencer.com. She resides in Los Angeles. 

Betty Boop is a beloved American icon, who has wowed her fans and the media for nearly ninety years. First introduced in 1930 by Max Fleischer and considered to be the first female animated screen star, Betty took the country by storm. She is a force to be reckoned with, and many claim she was ahead of her time with her daring look and irresistible charm. Ambitious, confident, and empowering, Betty Boop seeks to make a positive change in the world around her. 
Praise For…
---
"Everybody's favorite liberated cartoon woman." 
—Elle

"Packed with amazing inspo and fab life advice." 
—Girl's Life magazine

"Betty Boop embodies the universal themes of Love, Courage, Independence, and Hope—the same themes that keep coming up in my own work as a musician and composer. It's these themes that have inspired us to bring Betty to Broadway. Betty within the pages of this book or on Broadway—it's all positive and empowering. I think the whole world could use a little Betty Boop right now."
—David Foster, renowned musician and composer

"The original female star of animation is back in Susan Wilking Horan and Kristi Ling Spencer's new book . . . Drawing upon the original Betty Boop cartoons and lessons Betty learned 90 years ago—the same lessons and issues which every modern woman faces today—the book not only celebrates Fleischer animation, but also provides entertaining and empowering lessons designed for girls and women of every age."
—Dan Sarto, Animation World Network

"One of animation's most enduringly popular characters, Betty Boop is adored by fans of all ages, considered a style icon, trendsetter, and symbol of women's empowerment . . . Written by empowerment advocates Susan Wilking Horan and Kristi Ling Spencer, the book features a foreword by designer Zac Posen and offers readers a glimpse into Betty's colorful history while also providing timely and timeless tips on topics ranging from love to health to self-empowerment."
—Animation Magazine

"Betty is certainly an icon, in fashion, attitude, and lifestyle. You know her when you see her, and you know the character she'll bring to the screen: fierce, feisty, independent, ethical—a strong woman who knows her own mind. Susan Wilking Horan and Kristi Ling Spencer have taken the character of Betty Boop and tied those positive attributes, from Courage and Confidence to Health and Humor, together to create a book that entertains, enlightens, and educates with the light touch that Betty herself brought to so many classic screen appearances."
—Greg Moody, CBS Denver, Critic at large