Welcome to My Breakdown: A Memoir (Hardcover)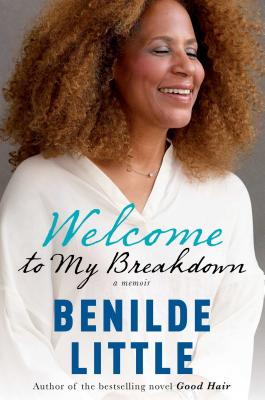 Description
---
The nationally bestselling author of Good Hair and The Itch pens her first book of nonfiction, a "momoir" about her own journey caring for aging parents, raising children, being married, plunging to the depths of depression, and climbing her way out.

My mother was gone. I never thought I would survive her death.

A major bestselling novelist and former magazine editor, long married to a handsome and successful stockbroker with whom she has a beautiful daughter and son, Benilde Little once had every reason to feel on top of the world. But as illness, the aging of her parents, and other hurdles interrupted her seemingly perfect life, she took a tailspin into a pit of clinical depression.

Told in her own fearless and wise voice, Welcome to My Breakdown chronicles a cavern of depression so dark that Benilde didn't know if she'd ever recover from what David Foster Wallace called "a nausea of the soul." She discusses everything from her Newark upbringing, once-frequent visits to a Muslim mosque, and how it felt to date a married man, to her doubts about marriage, being caught between elder care and childcare, and ultimately how she treated her depression and found a way out.

Writing in the courageous tradition of great female storytellers such as Joan Didion, Nora Ephron, and Pearl Cleage, Benilde doesn't hold back as she shares insights, inspiration, and intimate details of her life. Powerful, relatable, and ultimately redemptive, Welcome to My Breakdown is a remarkable memoir about the power within us all to rise from despair and to feel hope and joy again.
About the Author
---
Benilde Little is the bestselling author of the novels Good Hair (selected as one of the ten best books of 1996 by the Los Angeles Times), The Itch, Acting Out, and Who Does She Think She Is? A former reporter for People and senior editor at Essence, she lives in Montclair, New Jersey, with her husband and son. Her daughter is away at college. Follower her on Twitter and Instagram @BenildeLittle and read her blog, Welcome to My Breakdown, at BenildeLittle.Wordpress.com.
Praise For…
---
"Welcome To MyBreakdown will put you face-to-face with the realitiesof personal pain. What Benilde shares is a heroic demonstration of how toturn depression and loss into a path back to self. Her willingness to beopen and authentic creates a healing prescription for us all. What ablessing!"
— Iyanla Vanzant, author of In the Meantime and Every Day I Pray

"Benilde Little takes the fabric of suffering and weaves it into a raw, honest, and wonderful story of love and loss. Readers who have felt the depth of enduring sadness will see themselves in this deeply moving memoir."
— Janet Taylor, MD, MPH

"When we face the fire and come out on the other side, we learn what it is we are called to do. Benilde has written so beautifully and eloquently about the soul-crushing experience of depression -- whether it is named or not. Throughout this defining journey, we see, hear, and feel deeply the signs of a despair that longs for light and relief. The healing is in us sharing our stories with one another... and knowing we are not alone."



— Terrie M. Williams, author of Black Pain: It Just Looks Like We're Not Hurting

"Little transcends the familiar. Her prose sings its own brokenhearted tune... Most memoirs describe journeys of self-discovery and redemption, and Little's is no exception. At its conclusion, though, she doesn't surge back to life sorrow-free. Rather, she leaves us with a sense that the twin strands of toughness and tenderness within her have braided themselves into a kind of equilibrium. After traveling these fearless pages with her, readers will cross their fingers, hoping the balance holds."
— New Jersey Monthly

"Told in her own fearless and wise voice, Welcome to My Breakdown chronicles a cavern of depression so dark that Benilde didn't know if she'd ever recover... Compelling read... Writing in the courageous tradition of great female storytellers such as Alice Walker, Maya Angelou, Joan Didion, Pearl Cleage and Sista Souljah, Benilde doesn't hold back as she shares insights, inspiration, and intimate details of her life. Powerful, relatable, and ultimately redemptive, Welcome to My Breakdown is a remarkable memoir about the power within us all to rise from despair and to feel hope and joy again."
— digitaljournal.com

"One of the Best New Books -- An eminently readable memoir about turning darkness back into light."
— PEOPLE Magazine

"Breakdown takes a slight departure from her four novels, with major creative results... Lively anecdotes...achingly honest detail...Little gets herself together, piece by broken piece..."
— ESSENCE

"A moving memoir."
— Juicy