A is for Arsenic: The Poisons of Agatha Christie (Paperback)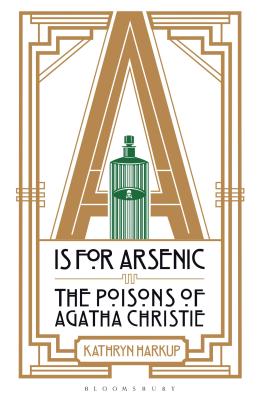 List Price: $17.00
Our Price: $15.30
(Save: $1.70 10%)
Description
---
Fourteen novels. Fourteen poisons. Just because it's fiction doesn't mean it's all made-up . . .
Agatha Christie reveled in the use of poison to kill off unfortunate victims in her books; indeed, she employed it more than any other murder method, with the poison itself often being a central part of the novel. Her choice of deadly substances was far from random--the characteristics of each often provide vital clues to the discovery of the murderer. With gunshots or stabbings the cause of death is obvious, but this is not the case with poisons. How is it that some compounds prove so deadly, and in such tiny amounts?
Christie's extensive chemical knowledge provides the backdrop for A is for Arsenic, in which Kathryn Harkup investigates the poisons used by the murderer in fourteen classic Agatha Christie mysteries. It looks at why certain chemicals kill, how they interact with the body, the cases that may have inspired Christie, and the feasibility of obtaining, administering and detecting these poisons, both at the time the novel was written and today. A is for Arsenic is a celebration of the use of science by the undisputed Queen of Crime.
About the Author
---
Kathryn Harkup is a chemist and author. Kathryn completed a PhD then a postdoc at the University of York before realising that talking, writing and demonstrating science appealed far more than spending hours slaving over a hot fume-hood. Kathryn went on to run outreach in engineering, computing, physics and maths at the University of Surrey, which involved writing talks on science and engineering topics that would appeal to bored teenagers, and she is now a science communicator delivering talks and workshops on the quirky side of science.
Praise For…
---
"Remember the homicidal glee of that old Cary Grant movie 'Arsenic and Old Lace'? Those adorable aged aunts, earnestly luring lonely old men to their house so they could knock them off with poison-laced elderberry wine? If you liked that, you'll like A IS FOR ARSENIC: THE POISONS OF AGATHA CHRISTIE; it has a little of that lethal charm . . . And while it's essentially good book-club-style fun, the book has a practical application: For every poison, it offers some antidotes." —Washington Post
"A] scholarly and enjoyable analysis of the great author's penchant for poison . . . if science was a banquet, then poison was her dish." —The New York Times Book Review
"Chemist Harkup delves deep into the history and science behind more than a dozen lethal substances, introducing each through its appearance in Christie's writing. You don't have to be familiar with the likes of Miss Marple or Hercule Poirot, however, to enjoy Harkup's detailed, near-gleeful dip into what she calls Christie's deadly dispensary." —Discover
"If you're an Agatha Christie fan, read this book. If you're a forensic-science fan, read this book. If you know someone harboring a grudge and an unseemly interest in poison, hide this book. Harkup, a chemist, has written a knockout analysis of poisons used in Christie's novels and short stories . . . This is an absolutely bravura chemical compound." —starred review, Booklist
"Intriguing and illuminating . . . This compilation should please mystery fans, true crime readers, and lovers of popular science." —Publishers Weekly
"This would be a perfect reference for anyone writing murder mysteries and is scientific enough to be used as a textbook . . . The addition of real-life cases and comparisons to Christie's works make this a nice little murder mystery of its own. Fear not, she's careful not to spoil the endings of the classic novels." —Kirkus Reviews
"A joy to read." —FanGirl Nation