So the Next Generation Will Know: Preparing Young Christians for a Challenging World (Paperback)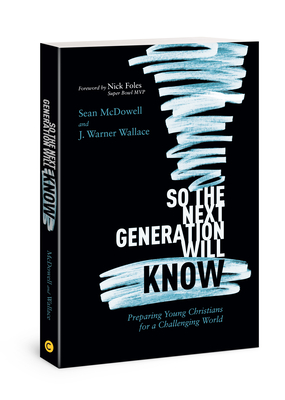 List Price: $16.99
Our Price: $15.29
(Save: $1.70 10%)
Not In Stock - Usually Available in 3-5 Days
Description
---
Whether you're a Christian parent, youth leader, or educator who works with Generation Z, this book was written for you. As powerful ideas in our increasingly secular culture shape more of this generation, trusted leaders must share what they know about Jesus in ways that will reach them. But how? Backed by the latest research and first hand experience, this powerful book shows how to share biblical truth with a generation that desperately needs to hear it in a way that draws them in instead of pushing them away.
Written by two youth influencers and experts on Generation Z, Sean McDowell, Ph.D., and J. Warner Wallace, So the Next Generation Will Know is an extraordinarily practical and relatable  guide for anyone concerned with ensuring the next generation understands and embraces a biblical worldview.
About the Author
---
Sean McDowell, Ph.D. is a best-selling author, co-author, or editor of more than 18 books including Is God Just a Human Invention? and Evidence that Demands a Verdict (with his father, Josh McDowell). He is an associate professor of apologetics at Talbot School of Theology, Biola University. Sean speaks internationally on a variety of topics related to culture, students, and apologetics.
 
J. Warner Wallace is a cold-case homicide detective, speaker, and author. He is a Senior Fellow at the Colson Center for Christian Worldview, an adjunct professor of apologetics at Biola University, and a faculty member at Summit Ministries. J. Warner and Susie Wallace also write popular apologetics books for kids and created the award-winning Case Makers Academy (www.CaseMakersAcademy.com).
 
Praise For…
---
"Though times have changed, the mandate for faithful parenting hasn't. So the Next Generation Will Know creates a bridge between the uncertain tides of modernity and the biblical expectations for teaching children. It provides helpful principles that equip parents and even youth pastors for reaching, instructing, and molding the hearts of the next generation."
 
— Dr. R. Albert Mohler Jr.president of The Southern Baptist Theological Seminar

"This may be the most important Christian book of the year! What's more vital than understanding how to teach the truth of Christianity to the next generation? Let this book coach you in equipping and encouraging the Christian leaders of tomorrow. The obstacles are great, but the opportunities are greater still!"
 
— Lee Strobel, bestselling author

"Sean and Jim are absolutely on target—we must be intentional in loving and equipping the next generation with the truth about God and the truth of God. This is no 'fluffy' book, but a challenging and exceptional book for parents, grandparents, and youth workers who all care about those we are sending to a time we will not see."
 
— Dr. Dennis Rainey, cofounder of FamilyLife

"After thirty years practicing pediatric medicine and speaking to thousands of kids across America, I have never seen such confusion, angst, and anxiety among our kids. They need help in the form of sound and clear teaching about the biblical truths that those of us with faith can offer. Sean McDowell and J. Warner Wallace are the perfect men to do that. This will make an extraordinary impact on the next generation."
    Meg Meeker, MD, author of the national bestseller Strong Fathers, Strong Daughters
— Meg Meeker, MD, author of the bestseller Strong Fathers, Strong Daughters