Mr. Dickens and His Carol: A Novel (CD-Audio)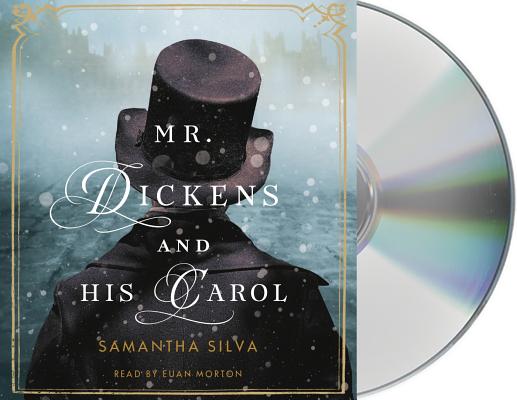 November 2017 Indie Next List
---
"Full of fantastic period detail and delightful prose, Mr. Dickens and His Carol is a wonderful companion to the enduring holiday classic A Christmas Carol. A month before Christmas, Charles Dickens is informed that his latest serial is a failure and he must produce a holiday story in one month's time or pay back his publishers for their losses. Beleaguered by his demanding relatives and expectant children, Dickens turns churlish and is unable to find any Christmas left within him to produce a fitting book. Fate intervenes when a mysterious woman crosses his path and becomes his much-needed muse, sending Dickens on a journey of inward reflection and reminding him not only of the joys of the season but how his cherished works are a gift for everyone who reads them."
— Meaghan Beasley (M), Island Bookstore, Kitty Hawk, NC
Description
---
"[Narrator Euan Morton's] British-accented narration is pure delight...This imaginative story is so charming that listeners will be convinced it is fact, not fiction. A heartwarming addition to the holiday audiobook collection." — Booklist

Laced with humor, rich historical detail from Charles Dickens' life, and clever winks to his work, Samantha Silva's Mr. Dickens and His Carol is an irresistible new take on a cherished classic.

Charles Dickens is not feeling the Christmas spirit. His newest book is an utter flop, the critics have turned against him, relatives near and far hound him for money. While his wife plans a lavish holiday party for their ever-expanding family and circle of friends, Dickens has visions of the poor house. But when his publishers try to blackmail him into writing a Christmas book to save them all from financial ruin, he refuses. And a serious bout of writer's block sets in.

Frazzled and filled with self-doubt, Dickens seeks solace in his great palace of thinking, the city of London itself. On one of his long night walks, in a once-beloved square, he meets the mysterious Eleanor Lovejoy, who might be just the muse he needs. As Dickens' deadlines close in, Eleanor propels him on a Scrooge-like journey that tests everything he believes about generosity, friendship, ambition, and love. The story he writes will change Christmas forever.

Full of holiday cheer and Victorian whimsy, Mr. Dickens and His Carol is the perfect audiobook to instill listeners with the Christmas spirit.

Praise for Mr. Dickens and His Carol:

"From his first words to his last, Euan Morton's narration is quintessentially Dickensian. This novel gives Morton the opportunity to voice all the personalities of the original CHRISTMAS CAROL — from revelers to Scrooge, ghosts, and Tiny Tim — and all are satisfying portrayals." — AudioFile Magazine

"A charming, comic, and ultimately poignant story about the creation of the most famous Christmas tale ever written. It's as foggy and haunted and redemptive as the original; it's all heart, and I read it in a couple of ebullient, Christmassy gulps." —Anthony Doerr, #1 New York Times bestselling author of All The Light We Cannot See

"[Silva] tunes herself to Dickens's imaginative frequency…She inhabits Dickens's sensitivity to London's atmosphere, its chancellors and urchins, its cobblestones and fog." —The New York Times Book Review

About the Author
---
Samantha Silva is a writer and screenwriter based in Idaho. Mr. Dickens and His Carol is her debut novel. Over her career she's sold projects to Paramount, Universal, New Line Cinema, and TNT. A film adaptation of her short story, The Big Burn, won the 1 Potato Short Screenplay Competition at the 2017 Sun Valley Film Festival. Silva will direct, her first time at the helm. A graduate of Johns Hopkins University's School of Advanced International Studies, she's lived in London, Bologna, and Rome, is an avid Italophile and a forever Dickens devotee.

Euan Morton's narration credits include Christopher Moore's Fool and Sacre Bleu, Neil Gaiman's Stories, Eoin Colfer's Benny books, and Frank Herbert's Dune and Chapterhouse Dune. Morton's breakthrough role was appearing as Boy George in the musical Taboo, which earned him a Laurence Olivier Award nomination. He reprised the role on Broadway, earning Tony, Drama Desk, Outer Critics Circle and Drama League Award nominations, as well as the Theatre World Award (for Outstanding Broadway Debut). Morton's other stage performances include Leaves of Glass, Sondheim on Sondheim, and Cyrano De Bergerac. He lives in New York City and Arlington, Virginia.
Praise For…
---
"From his first words to his last, Euan Morton's narration is quintessentially Dickensian." —AudioFile

"Euan Morton's fireside reading is perfect." —NJ.com

"[Samantha] Silva magically captures the world of Victorian London that Dickens was very active in, and even gives him a Muse to inspire the naming of Ebenezer Scrooge, Bob Cratchit and Tiny Tim. The mood is helped greatly by the heartwarming British narration by Euan Morton." —Winston-Salem Journal

"Mr. Dickens and His Carol is a charming, comic, and ultimately poignant story about the creation of the most famous Christmas tale ever written. It's as foggy and haunted and redemptive as the original; it's all heart, and I read it in a couple of ebullient, Christmassy gulps."
—Anthony Doerr, #1 New York Times bestselling author of All The Light We Cannot See

"Mr. Dickens and His Carol is a novel of pure charm and humor, a terrific holiday tale. Samantha Silva had me haunting those dark streets alongside her inspired Dickens."
—Jess Walter, #1 New York Times bestselling author of Beautiful Ruins

"This clever, original debut brilliantly imagines the writing of A Christmas Carol…Wildly moving, chock full of Dickensian atmosphere and written in a style as rich as a Victorian Christmas dinner."
—The Daily Mail

"Wonderfully Dickensian…With the wit and sprightly tone of a classic storyteller, Silva presents a heartwarming tale of friendship and renewal that's imbued with the true Christmas spirit."
—Booklist

"On its way to becoming a classic not unlike its subject matter."
—Bustle

"Silva has imagined an intriguing and atmospheric backstory to the quintessential holiday tale and its most revered author."
—Library Journal

"No writer in the history of literature so embodies the season of Christmas as Charles Dickens, a man who was alive to his fingertips from start to finish. Among his finest moments was surely when he wrote and published his mythic tale of Scrooge, Jacob Marley, and Tiny Tim, changing hearts and minds, then and now. Samantha Silva brings the great man, the Inimitable, to sizzling life in Mr. Dickens and His Carol. This man who brimmed with Christmases past, present, and future walks onto the public stage again in these pages, takes a bow, and enjoys the ringing applause."
—Jay Parini, author of The Last Station and The Passages of H.M.