Speak from the Heart: Be Yourself and Get Results (Paperback)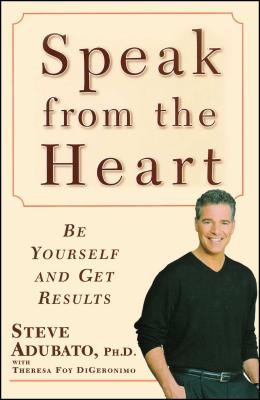 Description
---
In
Speak from the Heart,
Emmy Award-winning broadcaster, newspaper columnist, and motivational speaker Steve Adubato reveals the secrets to being a great communicator -- with a program that will dramatically change the way you talk, listen, and connect with others. Steve Adubato's life experiences, both professional and as a husband, son, brother, and father, have taught him invaluable lessons about the power of personal, sincere communication. In
Speak from the Heart,
he demonstrates that being a truly great communicator is not simply about being articulate or being a good talker. It is not about fancy visuals and PowerPoint presentations, or hard-core sales pitches, or even who has the most facts, figures, and technical wizardry. What really counts is making an authentic connection with other people that comes not merely from the intellect but from the heart. If you want to make a lasting impact, Dr. Adubato shows you how to engage people through empathy and understanding, how to be a great listener, and how to make an audience -- whether one, one hundred, or one thousand people -- care about you and your message. He helps you to rely less on written speeches, teleprompters, and index cards full of too much forgettable information, and learn, instead, how to tell a compelling story and create excitement and enthusiasm. You will learn, for example, how to:


Lecture less and engage more

Communicate under pressure

Make effective use of eye contact

Develop a conversational style

Inspire in a human, personal way

Become comfortable with your core message

Speak from the Heart
will not only make it easier for you to communicate your message without being ignored or misunderstood; it will also improve your relationships with other people and help you to become more productive at work -- with more satisfaction and less stress. Written by a man who has trained thousands of professionals in all walks of life, including corporate managers, lawyers, educators, health professionals, salespeople, and customer service reps,
Speak from the Heart
is for anyone who interacts with others at work, at home, in the community, or at social functions.
About the Author
---
Steve Adubato, Ph.D., has enjoyed a distinguished career as a broadcaster, author, university professor, and motivational speaker. Steve is a Rutgers University lecturer, four-time Emmy Award-winning television anchor for WNET/Channel 13 (PBS), and newspaper columnist. In addition to his work on public television, Steve is an expert commentator for ABC/7 in New York. Adubato also served in the mid-1980s as New Jersey's youngest state legislator at age twenty-six. A much sought-after motivational speaker, for the past decade Dr. Adubato has conducted communication, leadership, and team-building workshops for a variety of clients in the corporate and nonprofit sectors, including Prudential, PaineWebber, Johnson & Johnson, Merrill Lynch, the United Nations, and the American Cancer Society. His motivational program, called Stand and Deliver: Speak from the Heart, is a dynamic, hands-on professional development and training program that Dr. Adubato created to help professionals reach their potential as communicators and leaders. You can visit the program's Web site at www.stand-deliver.com. Currently the anchor of two WNET/Channel 13 (PBS) broadcasts and a syndicated television series called One-on-One with Steve Adubato, Adubato has interviewed hundreds of guests, including such public figures as Rudy Giuliani, Colin Powell, Bill Bradley, Al Gore, Bobbi Brown, Ralph Nader, Sam Donaldson, Tommy Lasorda, David Dinkins, Ed Koch, Ross Perot, Jesse Jackson, and Christie Whitman. He has also gone one-on-one with CEOs of Fortune 500 corporations, entrepreneurs, and athletes, as well as with ordinary people accomplishing extraordinary things.