My Big, Fat, Greek Cookbook: Best Recipes from My Big, Fat, Greek Cooking Class (Paperback)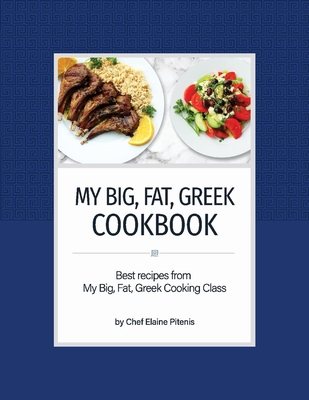 List Price: $24.99
Our Price: $22.49
(Save: $2.50 10%)
Description
---
My Big Fat Greek Cookbook is a wonderful compilation of the best recipes from My Big, Fat, Greek Cooking Class. All 65 recipes offer delicious, simple instructions to create mouth-watering delicacies. Each recipe is accompanied by stunning photographs, and offers a collection of Greek appetizers, soups, salads, main courses, vegetarian side dishes & vegetarian main courses, plus amazing Greek desserts!
With Elaine's Harvard Microbiology background, she has modified many of the traditional Greek recipes to offer more nutritious, heart-healthy Greek foods that can increase longevity. Doctors and Nutritionist have tried these recipes and can attest to their high nutritional value to help create a healthy lifestyle.

Best recipes include:

•Pastitso
•Spanakopita
•Moussaka
•Roast Leg of Lamb
•Avgolemono
•Chicken Souvlaki
•Tzaziki
•Greek Lentil Soup
•Baklava
•Saganaki
And much more!
About the Author
---
Elaine Pitenis grew up in Cambridge, Massachusetts, and did her graduate work in Microbiology at Harvard University. She worked in the fields of Microbiology and Cancer Research before marrying and having four beautiful children. The family moved to Greece and lived in Athens for a short time before relocating to Daytona Beach, FL in 1999 and opening her Greek Cooking School.

While in Greece, Elaine learned cooking techniques from several acclaimed Greek Chefs from Corinth, Kastoria, and the islands of Samos, and Salamina. Elaine began teaching Greek Cooking in 2004 at The Casements in Ormond Beach, FL and has used the acquired techniques from Greece in addition to her prior knowledge of the culinary arts through her mother Connie Spinos, who was a Home Economics teacher in Cambridge, MA.
My Big, Fat, Greek Cookbook elicits a fusion of both "old world" traditional cooking recipes and techniques, as well as Chef Elaine's own flavorful and innovative methods to offer a unique, hands-on cookbook to create delicious, heart-healthy Grecian delicacies.