Lighting the World (Paperback)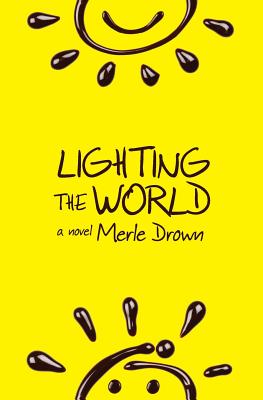 $18.00
Usually Ships in 3-5 Days (Subject to Availability)
This title is NON-RETURNABLE.
Description
---
Wade Rule decides to escape his dominating mother by taking it upon himself to go to Vermont to care for his wheelchair-bound uncle who, Wade's father tells him, has recently lost his girlfriend to a "man whose legs work." Wade reveals his dream to a fellow high school student, Maria, who tells him, "I'd run off to Vermont before I'd live with my father." Wade then knows he'll have to hurry because Maria is planning to have herself declared a ward of the state within a week. She has given Wade the confidence to get them both to a better home; however, Wade's confidence is misplaced, and when he shows up at school with a shotgun to fetch Maria, things quickly go horribly wrong.
About the Author
---
A native of Northern New England, Merle Drown has written stories, essays, plays, reviews, and two novels, Plowing Up a Snake and The Suburbs of Heaven. He has received fellowships from the National Endowment for the Arts and the New Hampshire Arts Council and teaches in Southern New Hampshire University's M.F.A. program. The father of three sons, he lives with his wife Teresa Ceballos in Concord, New Hampshire, and Toronto
Praise For…
---
"'If you have a gun, you don't need a role model.' In the dark but compassionate novel Lighting the World by Merle Drown, these words are what sixteen-year-old Wade Rule pencils in for his starting sentence of Mr. B's writing assignment, a reflective essay on the movie Shane...the narrative does a more than admirable job of delving into the psyche of the kids who, generation after generation, interpret the messages of the world and decide to find solutions in violence and guns." -- Jennifer Williams, Foreword Reviews

"Like a good Greek tragedy the story moves swiftly and deadly… its style is both terse and greatly evocative…this is a wonderful work of art." -- John G. Cawelti, author of The Six Gun Mystique

"This raw, gritty portrayal of a boy desperate for love and belonging provides a window into a reality we so often want to draw the curtain on and hide from view. Here, Drown explores the brutal consequences of doing just that–with wit, wisdom and above all, heart." --Jo Knowles, author of Living with Jackie Chan

"Intriguing, heartfelt and insightful, Lighting the World is a rich and complex novel filled with fascinating characters and genuine moments of surprise." --John Searles, author of Help for the Haunted and Strange but True