How to Talk to Your Kids about Pornography (Paperback)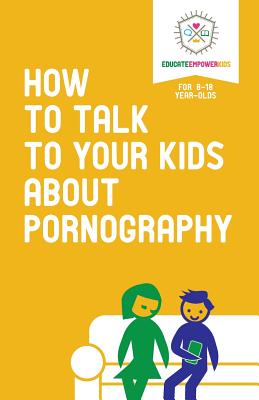 $19.99
Email or call for price.
Description
---
THIS IS THE 1ST EDITION. PLEASE GO TO THIS LINK FOR THE 2ND EDITION: https: //www.amazon.com/Talk-Your-Kids-About-Pornography-ebook/dp/B07MTMJ7F8/ref=sr_1_3?keywords=how+to+talk+to+your+kids+about+pornography&qid=1553619552&s=gateway&sr=8-3 Never before has it been so easy to talk with your children or teens about tough topics. Whether they are 8 or 18, you will have worthwhile, relevant discussions that help protect and prepare your kids Because exposure to pornography is inevitable, it is necessary to prepare our kids for that exposure. Porn's addictive nature, the way it can alter a child's developing brain, and how it will affect all of their future relationships make these discussions vital to a child's healthy sexual development. Our kids must be warned of its dangers as well as educated about the hateful nature of pornography, where women are usually the targets or victims of objectification, violence, degradation, and humiliation.We have provided critical information and great discussion questions that will foster productive and meaningful conversations between you and your kids. Look at these discussions as an opportunity to connect. As you become more comfortable and gain confidence in discussing these tough topics, your kids will be able to ask you deeper questions and share more personal thoughts and experiences with you. You will find that if you can discuss the dangers of online pornography and the related topics in this book, you can talk with your kids about ANYTHING.
About the Author
---
Comprised of parents and professionals, the mission of Educate and Empower Kids (EEK) is to empower parents to create deep connection with their kids through media education, meaningful family communication and intentional parenting. As a nonprofit 501(c)(3), EEK works across the country to provide essential resources for parents and educators to teach children and teenagers about the dangers of online pornography and simple, straight forward solutions for talking about its opposite: healthy sexual intimacy. EEK believes that online pornography consumption among children and teens is reaching epidemic proportions and is one of the most perilous public health issues of our time. With children being exposed at younger and younger ages, porn addiction rates are sky-rocketing, body image and self esteem among both genders continues to plummet and rape culture thrives. In an effort to combat these issues, EEK has written How to Talk to Your Kids About Pornography, 30 Days to a Stronger Child and 30 Days of Sex Talks, created valuable online content (educateempowerkids.org), and currently performs in-school and community presentations for children and parents. It is our goal that parents, therapists, community leaders and the general public come to understand and work together to contain the deleterious effects of an entire generation who receives its sexual education from online pornography.