Safe and Sustainable Crop Protection (ACS Symposium) (Hardcover)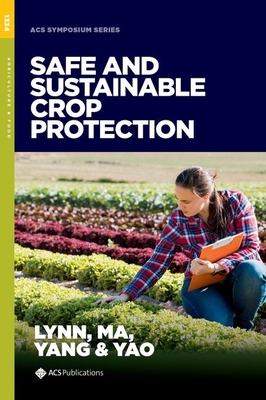 $175.00
Email or call for price.
Description
---
As the world population grows, agrochemical researchers continue to innovate. This volume contains select innovations and advances in crop protection technology from the ACS Division of Agrochemicals. Contributed chapters focus on biochemistry, such as microbiomes and antibiotics, as well as workflows, including separation, characterization, and analysis.

About the Author
---
Kari Lynn is currently working at Corteva Agriscience in Indianapolis, Indiana, where she conducts and designs environmental fate studies to support discovery programs. She has been working in the Ag industry for 7 years. Prior to moving to Ag, Lynn supported drug metabolism, biopharmaceutics, and bioanalytical for twenty years. She received her B.S. degree in Chemistry from Indiana University and her M.S. degree in Analytical Chemistry from Villanova University. Mingming Ma is currently a Regulatory Science Team Leader of Crop Protection Regulatory Sciences at Corteva Agriscience where she leads the teams to support registrability assessment for new pesticide active discovery and development. She received a B.S. in Pharmacy from Zhejiang University and a Ph.D. in Pharmaceutical Sciences from the University of Wisconsin-Madison. Ma's Ph.D research focused on developing multi-faceted mass spectral technologies in crustacean neuropeptide discovery. She serves as an executive committee member in the ACS AGRO Division. Previously, she has been involved as a co-organizer for numerous symposia and an invited speaker for several AGRO symposia. She has authored or co-authored more than 20 papers in peer-reviewed journals. Qiang Yang is currently a Process Chemistry Team Leader in the Crop Protection Product Design & Process R&D at Corteva Agriscience in Indianapolis, Indiana, where he is designing and developing processes and leading process chemistry efforts to support the advancement of Crop Protection products. Yang spent a decade in the Chemical Development group at Albany Molecular Research, Inc. focusing on route scouting, process development, and technology transfer of processes for pilot manufacture of Active Pharmaceutical Ingredients intended for toxicological and clinical evaluations. He received his B.S. in Chemistry from Beijing Normal University and M.S. in Organic Chemistry from Institute of Chemistry, the Chinese Academy of Sciences in Beijing. He completed his Ph.D. study under the direction of Prof. David C. Baker at University of Tennessee, Knoxville. His Ph.D. research focused on the total synthesis of C-/O- and S-/O- linked oligosaccharide mimetics of Hyaluronic Acid (HA). He is a co-inventor for 50 issued patents and co-author for 25 peer-reviewed publications. Qi Yao is currently a postdoctoral researcher at University of Maryland, where she works on aerosol cloud condensation nuclei interaction and characterization. Prior to this employment, she was working on evaluating the effectiveness of vegetative environmental buffer (VEB) in reducing air pollutant emissions from poultry houses. She has earned several awards, including ACS AGRO Education Award (2016, 2017) and ACS IUPAC Student Award (2014). She is an ACS fellow and an AAAR fellow and has authored or co-authored 11 papers and one patent so far.