Finanzas Bíblicas: Cambia Tú Y Cambiarán Tus Finanzas (Paperback)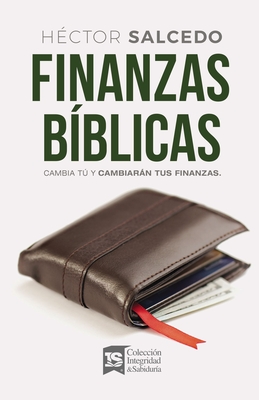 List Price: $13.99
Our Price: $12.59
(Save: $1.40 10%)
Usually Ships in 3-5 Days (Subject to Availability)
Description
---
En un mar de consejos financieros, hay tan solo un camino para resolver, de una vez por todas, tus problemas de dinero. Transforma tu futuro financiero al permitir que estas sencillas verdades b blicas penetren en tu coraz n y cambien tu perspectiva respecto a las finanzas personales.
Muchos de nosotros, si no todos, hemos enfrentado estr's financiero. En Finanzas b blicas, el renombrado pastor y economista H ctor Salcedo, nos desaf a a ver m's all de los consejos financieros tradicionales, los cuales a menudo producen solo cambios pasajeros, y m's bien nos anima a cambiar nosotros, en nuestro interior; renovar nuestro entendimiento y permitir que esto informe nuestras prioridades y nuestras acciones.
En Finanzas b blicas, H ctor Salcedo nos lleva por una traves a b blica que propone:
Mostrar que las dificultades financieras tienen, en su mayor a, un origen que responde a un desv o del car cter.
Exponer nuestra sutil pero fuerte inclinaci n a la avaricia; es decir, a acumular posesiones materiales.
Desenmascarar la raz n de dicha avaricia, que no es m's que nuestra equivocada idea de que la abundancia de bienes produce plenitud de vida.
Demostrar que la generosidad, lejos de «restarnos , nos suma.
Mostrar c mo manejar las finanzas de forma tal que honremos a Dios.
El libro concluye con algunos consejos pr cticos relacionados con:
El incremento de tus ingresos
La evaluaci n de oportunidades de negocios que incluyen las compa as de mercadeo de multinivel
Las inversiones
La criptomoneda
La creaci n de un presupuesto familiar
El endeudamiento por la compra de una casa o un veh culo
Mientras muchos se enfocan en resolver sus problemas financieros siguiendo el consejo de gur's o prueban la m's reciente herramienta de presupuestos personales, el cambio duradero empieza en nuestro interior. Permite que estas verdades b blicas penetren en tu coraz n y transformen tu perspectiva sobre las finanzas; y cambia as , tu futuro financiero.
Biblical Finances
In a sea of financial advice, there is the only one way to truly solve your money problems. Transform your financial future by allowing these simple Biblical truths to penetrate your heart and shift your view on personal finances.
Many, if not all of us, at one time or another, face financial stress. "Biblical Finances," from renowned Pastor and economist, Hector Salcedo, challenges us to look beyond the traditional financial advice, which often produces only temporary change. Instead, the author encourages us to aim for lasting change by going on a Biblical journey with him.
In this book, Hector will show you:
How your financial difficulties are often directly tied to your character
How saving is for the wise
How your desire for material possessions is often based on the misguided idea that owning these things will bring happiness
How contentment can cure your financial deficit
How generosity ADDS to your life and does not take away
The book concludes with some practical advice related to:
Increasing your income
Evaluating business opportunities including multi-level marketing companies
Investing
Cryptocurrency
Creating a family budget
Getting into debt with a home or auto purchase