Snarf Attack, Underfoodle, and the Secret of Life: The Riot Brothers Tell All (Paperback)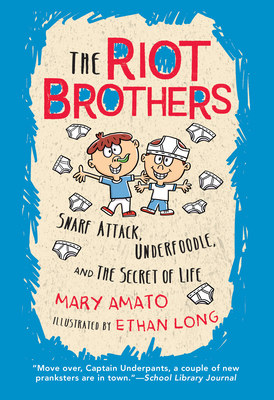 Description
---
Riot Brother Rule #1: Make something exciting happen every day
 
It's no easy task, but Wilbur and Orville Riot are up to the challenge. Whether it's catching a bank robber, finding hidden treasure while cleaning the house, or overthrowing a wicked king, the Riot brothers are clever, resourceful, and just plain funny.  They sing songs, make up games, and always come out on top in the end—in spite of a few bumps along the way. 
 
The inventive, energetic brothers have a warm sibling relationship (even when they're trying to make each other snarf milk out of their noses), and though they get called into the Principal's office now and then, the trouble they make is always in good fun. Plus, she's their mom, so she always gives them a ride home.  Not a bad end to an exciting day. 
 
The short chapters make great bedtime reads—though beware! You might be tempted to stay up all night playing Underfoodle or the Frying-Pan Game. And with lots of puns and just the right amount of gross-out humor, this updated edition contains three stories about the Riot Brothers, plus lists, lists, and more lists—including the Riot Brother Rules, all their games, and the extra-special Riot Brother Top Ten List of Important Things To Be Able To Do With Your Face . . . plus, a preview of the Riot Brothers sequel, Drooling and Dangerous.
About the Author
---
Mary Amato is an award-winning children's book author, poet, playwright, and songwriter. Her books have been translated into foreign languages, optioned for television, produced onstage, and nominated for the children's choice awards in many states. She lives in Maryland.

Ethan Long has written and illustrated dozens of children's books. His accolades include a Theodor Seuss Geisel Medal. He lives in Florida.