The Sport of Kings and the Kings of Crime: Horse Racing, Politics, and Organized Crime in New York 1865--1913 (Sports and Entertainment) (Hardcover)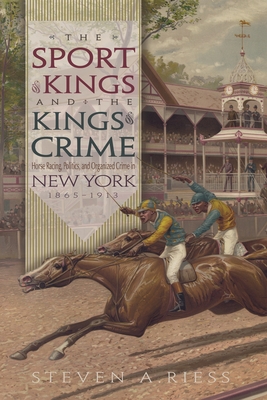 List Price: $45.00
Our Price: $40.50
(Save: $4.50 10%)
Not In Stock - Usually Available in 3-5 Days
Description
---
Thoroughbred racing was one of the first major sports in early America. Horse racing thrived because it was a high-status sport that attracted the interest of both old and new money. It grew because spectators enjoyed the pageantry, the exciting races, and, most of all, the gambling. As the sport became a national industry, the New York metropolitan area, along with the resort towns of Saratoga Springs (New York) and Long Branch (New Jersey), remained at the center of horse racing with the most outstanding race courses, the largest purses, and the finest thoroughbreds.
Riess narrates the history of horse racing, detailing how and why New York became the national capital of the sport from the mid-1860s until the early twentieth century. The sport's survival depended upon the racetrack being the nexus between politicians and organized crime. The powerful alliance between urban machine politics and track owners enabled racing in New York to flourish. Gambling, the heart of racing's appeal, made the sport morally suspect. Yet democratic politicians protected the sport, helping to establish the State Racing Commission, the first state agency to regulate sport in the United States. At the same time, racetracks became a key connection between the underworld and Tammany Hall, enabling illegal poolrooms and off-course bookies to operate. Organized crime worked in close cooperation with machine politicians and local police officers to protect these illegal operations. In
The Sport of Kings and the Kings of Crime,
Riess fills a long-neglected gap in sports history, offering a richly detailed and fascinating chronicle of thoroughbred racing's heyday.
About the Author
---
Steven A. Riess is a Bernard Brommel Distinguished Research Professor in the Department of History at Northeastern Illinois University, where he has taught for thirty-five years. He is the author of several books on the history of sport including Touching Base: Professional Baseball and American Culture in the Progressive Era and City Games: The Evolution of American Society and the Rise of Sports.