Avedon: Something Personal (Hardcover)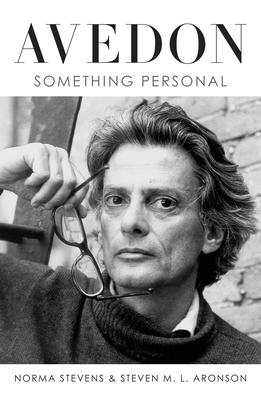 Description
---
An intimate biography of Richard Avedon, the legendary fashion and portrait photographer who "helped define America's image of style, beauty and culture" (The New York Times), by his longtime collaborator and business partner Norma Stevens and award-winning author Steven M. L. Aronson.

Richard Avedon was arguably the world's most famous photographer—as artistically influential as he was commercially successful. Over six richly productive decades, he created landmark advertising campaigns, iconic fashion photographs (as the star photographer for Harper's Bazaar and then Vogue), groundbreaking books, and unforgettable portraits of everyone who was anyone. He also went on the road to find and photograph remarkable uncelebrated faces, with an eye toward constructing a grand composite picture of America.

Avedon dazzled even his most dazzling subjects. He possessed a mystique so unique it was itself a kind of genius—everyone fell under his spell. But the Richard Avedon the world saw was perhaps his greatest creation: he relentlessly curated his reputation and controlled his image, managing to remain, for all his exposure, among the most private of celebrities.

No one knew him better than did Norma Stevens, who for thirty years was his business partner and closest confidant. In Avedon: Something Personal—equal parts memoir, biography, and oral history, including an intimate portrait of the legendary Avedon studio—Stevens and co-author Steven M. L. Aronson masterfully trace Avedon's life from his birth to his death, in 2004, at the age of eighty-one, while at work in Texas for The New Yorker (whose first-ever staff photographer he had become in 1992).

The book contains startlingly candid reminiscences by Mike Nichols, Calvin Klein, Claude Picasso, Renata Adler, Brooke Shields, David Remnick, Naomi Campbell, Twyla Tharp, Jerry Hall, Mikhail Baryshnikov, Bruce Weber, Cindy Crawford, Donatella Versace, Jann Wenner, and Isabella Rossellini, among dozens of others.

Avedon: Something Personal is the confiding, compelling full story of a man who for half a century was an enormous influence on both high and popular culture, on both fashion and art—to this day he remains the only artist to have had not one but two retrospectives at the Metropolitan Museum of Art during his lifetime. Not unlike Richard Avedon's own defining portraits, the book delivers the person beneath the surface, with all his contradictions and complexities, and in all his touching humanity.
About the Author
---
Norma Stevens was a top advertising copywriter and creative director when Richard Avedon wooed her to become his studio director in 1976. She went on to collaborate with him on all his commercial, editorial, and fine-arts projects and traveled the world with him for his advertising campaigns and museum exhibitions. At his death in 2004 she became the founding executive director of the Richard Avedon Foundation, which she led for five years. She is a longtime board member of the Twyla Tharp Dance Foundation.

Steven M. L. Aronson met Richard Avedon in 1970, and their paths continued to cross through the rest of Avedon's life. A former book editor and publisher, he is the author of Hype and the co-author of the Edgar Award–winning Savage Grace. He contributed the biographical portion to the collector's edition of the work of the photographer Peter Beard. His profiles, interviews, and articles have appeared in Vanity Fair, Vogue, Interview, New York, Esquire, The Village Voice, Architectural Digest, Poetry, and The Nation.
Praise For…
---
"If you're into pop culture, you'll inhale Avedon: Something Personal."—Kitty Kelley

"It's a good time, this book. There's a feeling of arriving at a party where everyone is at least two drinks ahead of you, and the hostess has you by the arm and is barreling you into the thick of things, talking a mile a minute, catching you up on everyone's hidden agendas. . . . Everyone saw one side of [Richard Avedon]—but together the testimonials of his assistants, models and lovers add up to a mosaic of the man. The snapshots are affectionate and admiring, and the contradictions in them can give you whiplash."—The New York Times

"Intimate and dishy in its conversational tone, the book makes you feel as though you are nose to nose trading stories with a vivacious confidant. . . . This roomy account fills in the renowned white space surrounding Avedon, a man who curated his reputation as carefully as he did his output, remaining relentlessly private. . . . Notably, this book gives luminaries—including Renata Adler, Mike Nichols, Naomi Campbell, Veruschka, and Twyla Tharp—the chance to speak illuminatingly on the man who captured them on film. It's a saucy meandering from anecdote to anecdote. . . .  Stevens and [Steven M. L.] Aronson have telescoped Avedon's star into much clearer view."—Chicago Tribune

"Avedon: Something Personal gives you the gossip. Snap!"—New York

"Although the bitchier and more salacious anecdotes . . . will likely earn the book a good deal of attention, the cast of characters is most interesting when discussing Avedon's central struggle: Should he direct his talents to selling the lie or revealing the truth? . . . The composite portrait that emerges . . . depicts a frantic, insecure artist consumed by ambition. . . Testimonies—especially those by Avedon's former studio assistants and managers—also reveal a man capable of great generosity and unadulterated joy."—The Wall Street Journal

"[Offers] loads of personal information here to horrify an estate that would prefer to paint an unblemished face on the reputation of the deceased . . . Balancing the disclosure of these secrets, however, the authors dazzle us with stories from models, writers, editors, actors, and friends that attest to [Avedon's] electrifying and seductive intelligence."—Collector Daily (Photobooks)

"Exhilarating . . .  Like Tina Brown's diaries . . . A whirlwind read, dropping names, exhibits, assignments, one-liners and wisecracks so fast I turned the 697 pages slightly breathless, taking top-speed notes like a snapping paparazza. . . . [Stevens's] portrait is personal and affectionate, [and] intentionally subjective. She reveals intimate details of his life and death without judgment and often with humor. . . . This book is a fine memorial."—Elaine Showalter, The Times Literary Supplement

"Capacious and valuable . . . The Richard Avedon Foundation . . . prefers that details about Avedon's private life stay private, even after death. But Avedon lived a rich, full life, and a rich, full life has sex, love, food, clarity, contradiction."—HuffPost

"Stevens . . . doesn't shy away from [Avedon's] darker recesses [but] what you do come away with is a huge appreciation for his body of work and for his absolute lust for life."—New Statesman