Queen of Fashion: What Marie Antoinette Wore to the Revolution (Hardcover)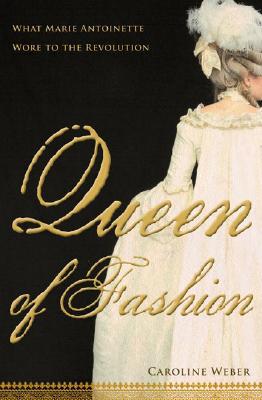 $27.50
Email or call for price.
Description
---
In this dazzling new vision of the ever-fascinating queen, a dynamic young historian reveals how Marie Antoinette's bold attempts to reshape royal fashion changed the future of France
Marie Antoinette has always stood as an icon of supreme style, but surprisingly none of her biographers have paid sustained attention to her clothes. In Queen of Fashion, Caroline Weber shows how Marie Antoinette developed her reputation for fashionable excess, and explains through lively, illuminating new research the political controversies that her clothing provoked. Weber surveys Marie Antoinette's "Revolution in Dress," covering each phase of the queen's tumultuous life, beginning with the young girl, struggling to survive Versailles's rigid traditions of royal glamour (twelve-foot-wide hoopskirts, whalebone corsets that crushed her organs). As queen, Marie Antoinette used stunning, often extreme costumes to project an image of power and wage war against her enemies. Gradually, however, she began to lose her hold on the French when she started to adopt "unqueenly" outfits (the provocative chemise) that, surprisingly, would be adopted by the revolutionaries who executed her.
Weber's queen is sublime, human, and surprising: a sometimes courageous monarch unwilling to allow others to determine her destiny. The paradox of her tragic story, according to Weber, is that fashion--the vehicle she used to secure her triumphs--was also the means of her undoing. Weber's book is not only a stylish and original addition to Marie Antoinette scholarship, but also a moving, revelatory reinterpretation of one of history's most controversial figures.
About the Author
---
Caroline Weber is associate professor of French at Barnard College, Columbia University. A specialist of eighteenth-century French literature, culture, and history, she has also taught at the University of Pennsylvania and Yale University. Her other publications include Terror and Its Discontents, a well-received and widely taught book on the Reign of Terror; an edited volume of Yale French Studies; and numerous academic articles. She lives with her husband in New York City.
Praise For…
---
"Caroline Weber weaves her portrait of Marie Antoinette--and pre-revolutionary France--from the very fabric of the Queen's wardrobe. Here is fashion at its most cut-throat and history at its most sumptuous; an original, arresting tale, of high stakes all around."--Stacy Schiff, author of A Great Improvisation "Queen of Fashion is a marvelous read. Fascinating in its rich detail yet also deeply moving, no other book about the tragic Marie Antoinette so captures her fatal flair for fashion. Caroline Weber not only combines fresh insights with new material, she also has a dazzling style of writing that most authors would kill for. This is a book to be read and reread and then passed among friends."--Amanda Foreman, author of Georgiana "Caroline Weber deftly details the volatile interplay of fashion and politics during Marie Antoinette's reign as a sartorial trend-setter. A witty account of fashion as dynastic high stakes, this rereading of the lead-up to the French Revolution sees the queen's vestimentary caprices as politically motivated, an ill-fated approach to her personal disenfranchisement. An original look at a turning point in European history."--Carolyn Burke, author of Lee Miller: A Life "Caroline Weber's historical imagination and zest for fashion make for a sparkling take on the tragic, trendy Queen. Scholarly and entertaining -- a brilliant, wholly original book."--Kennedy Fraser, author of The Power of Style "Even at its red-carpet, who-are-you-wearing? giddiest, fashion is never trivial. Far from it. In every pleat and wardrobe malfunction, cultural as well as sexual definitions constantly stretch and change. But Weber goes further. In her thrilling frock-by-frock account, which coincides with Sofia Coppola's biopic confection starring Kirsten Dunst, she concludes that 'Marie Antoinette helped invent fashion as a high-stakes political game -- one that she played in dead earnest, and with deadly results.' And while this book is rigorously researched, Weber's narrative style is energetic and alive with her own feminine pleasure at a beautiful dress or an outrageous pouf."--Entertainment Weekly, 'EW Pick' (A)

"Caroline Weber's Queen of Fashion examines Marie Antoinette from an arresting angle--her theatrical persona as a fashion innovator. Forced to jockey for position, French courtiers were slaves of fashion, while queens tended to be more modest and reserved. Fashion flash was practiced instead by the kings' semi-official mistresses--a role that Weber demonstrates was borrowed by Marie Antoinette (whose husband had no mistress) and that eventually compromised her reputation and made it easier for scurrilous pamphleteers to caricature her as a whore."--Camille Paglia, The Chronicle of Higher Education

"It is always gratifying to discover how much a fashion statement can mean, and Weber's account of the transition from ancien regime to the Republic from a sartorial point of view is a perceptive work of scholarship that helps to explain the transcendent importance of fashion to French culture."--The New Yorker

"Wickedly enjoyable."--Horatio Silva, The New York Times Style Magazine

"Prodigiously researched [and] deliciously detailed . . . The generously illustrated history by Weber posits that the queen's fashion obsession wasn't about narcissism and frivolity, but self-assertion; even at the guillotine she controlled her image with a radiantly white ensemble. Who knew that in 1909 one could have a dear friend give you a Brazilian shave?"--Publisher's Weekly (starred review)

"Comprehensive, entertaining . . . the fashion segments are fun to read and researched with consummate attention to detail. When the royal couple is finally imprisoned, the author does a splendid job of explaining how their political fall was mirrored in their dress. Her account of the queen's final appearance--all in glorious white--on the ride to the guillotine carries enormous poignancy. A briskly written account of a time when high fashion took death's hand and danced."--Kirkus Reviews