The Lady Queen: The Notorious Reign of Joanna I, Queen of Naples, Jerusalem, and Sicily (Hardcover)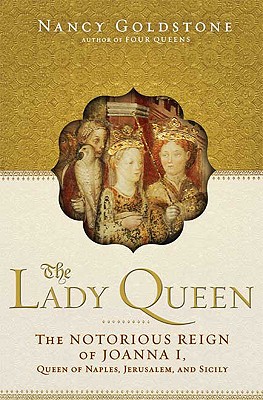 $27.00
Email or call for price.
November 2009 Indie Next List
---
"Joanna, Queen of Naples, Jerusalem and Sicily was one of the first women to rule in her own right and she fought relatives, husbands and, popes to retain that right. The Lady Queen is history writing at its best. Fans of historical fiction will be riveted and history buffs will be amazed at the story of this largely forgotten queen."
— Ann Carlson, Harborwalk Books, Georgetown, SC
Description
---
The riveting history of a beautiful queen, a shocking murder, a papal trial and a reign as triumphant as any in the Middle A ges.
On March 15, 1348, Joanna I, Queen of Naples, stood trial for her life before the Pope and his court in Avignon. She was twenty-two years old. Her cousin and husband, Prince Andrew of Hungary, had recently been murdered, and Joanna was the chief suspect. Determined to defend herself Joanna won her acquittal against enormous odds. Returning to Naples, she ruled over one of Europe's most prestigious courts for more than thirty years until she was herself murdered.
As courageous as Eleanor of Aquitaine, as astute and determined as Elizabeth I of England, Joanna was the only female monarch in her time to rule in her own name. She "was "notorious: The taint of her husband's death never quite left her. But she was also widely admired: Dedicated to the welfare of her subjects and realm, she reduced crime, built hospitals and churches, and encouraged the licensing of women physicians. While a procession of the most important artists and writers of her day found patronage at her glittering court, the turmoil of her times swirled around her: war, plague, intrigue, and the treachery that would, ultimately, bring her down.
As she did in her acclaimed "Four Queens," Nancy Goldstone takes us back to the turbulent and colorful Middle Ages, and with skill and passion brings fully to life one of history's most remarkable women. Her research is impeccable, her eye for detail unerring, and in "The Lady Queen "she paints a captivating portrait of medieval royalty in all its incandescent complexity.
About the Author
---
Nancy Goldstone is the author of Four Queens: The Provencal Sisters Who Ruled Europe and coauthor (with her husband Lawrence Goldstone) of five books, including Out of the Flames, The Friar and the Cipher, and Warmly Inscribed. She lives in Westport, Connecticut.
Praise For…
---
"In scholarly but accessible prose, popular historian Goldstone underscores the many significant accomplishments of this exemplary queen. A thoroughly intriguing portrait of a neglected historical figure."—Kirkus
"Veteran author Goldstone expertly describes bloodthirsty 14th-century politics and the complex family entanglements that encouraged siblings and cousins to clash over kingdoms like toddlers brawling over toys… Packed with action and effortless to read, Goldstone's account will satisfy scholars and entertain book clubs with a heroine who had persistence and unbounded dedication to her realm."—Publishers Weekly (starred review)
"Court intrigue, the murder of a member of a royal house, and a sensational trial: many authors use these elements in combination to forge page-turning medieval mysteries. Goldstone, author of Four Queens (2007), proves once again that truth is often stranger and more intriguing than fiction. Choosing as her subject Joanna, the notorious queen of Naples and titular queen of Jerusalem and Sicily from 1343 to 1382, she chronicles the fascinating life of one of the few women in her time who ruled in her own name…a life well worthy of historical examination."—Booklist
"The Lady Queen weaves the story of one of the most extraordinary (and unjustly overlooked) rulers of the Middle Ages. The incredible episodes in Joanna's history—not only murder and plague, but also cannibalism and even a medieval-style credit crunch—sometimes seem like something out of one of Boccaccio's more fantastical tales. In bringing it all together, Nancy Goldstone has produced the most compelling history of the "calamitous fourteenth century" since A Distant Mirror."—Ross King, author of Brunelleschi's Dome, Michelangelo & the Pope's Ceiling, and The Judgment of Paris
"This is a remarkable story about a remarkable woman told with skill and verve. Nancy Goldstone re-creates the fourteenth-century world of intrigue, family feud, and skullduggery with a flourish."
—Wendy Moore, author of Wedlock
"Living two centuries earlier than Elizabeth I of England, Joanna I was the first European woman ever to govern a realm in her own name. Written in vivid, pellucid prose, Nancy Goldstone's terrific biography of this unique and extraordinary woman gives us a glimpse of the significant political power exercised by many women in the Middle Ages, and is nothing short of riveting."—Francine Du Plessix Gray
"If your tastes run to medieval European politics, then there is nothing better than a good meaty biography of royal intrigue and murder…Goldstone reminds us of Queen Joanna I's shrewdness, as well as the delicious infamy of her reign and times."—Knight Ridder, McClatchy Tribune
'The Lady Queen' (Walker & Company) is a murder mystery, a tale of hard-earned political power and a harrowing drama of family discord guaranteed to keep readers turning pages late into the night." – Connecticut Post
"The Lady Queen is a fascinating account of the life of Joanna I. It provides a sympathetic appraisal of the notorious queen, placing her rule within the broader historical context. This includes her navigation of the political realities of the Black Death, the Hundred Years War, economic downturns, and the papal court's movement between Avignon and Rome. In an age dominated by men, this previously obscure historical figure fought scandal, betrayal, and personal tragedy to rule in her own name for over a quarter century." – Historical Novels Review
"Goldstone gives a good, solid account of Queen Joanna, unlike previous works that tend to see her in an overly flowery or overly critical tone…a fascinating read and will appeal to anyone interested in the Middle Ages." –Medievalist.net