My Pages, Numbers, and Keynote (for Mac and IOS) (Paperback)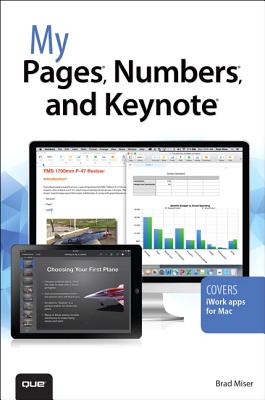 List Price: $24.99
Our Price: $22.49
(Save: $2.50 10%)
Description
---
Be More Productive with Pages, Numbers, and Keynote
Pages, Numbers, and Keynote are Apple's office/business productivity software applications. Originally a suite of software called iWork, these apps are roughly the equivalent of Microsoft Office's Word, Excel, and PowerPoint but implemented quite differently with Apple's approach to design and functionality.
Written by Apple hardware and software expert, Brad Miser, My Pages(r), Numbers(r), and Keynote(r) includes full-color, step-by-step tasks to walk you through these key applications, so you can quickly accomplish exactly what you want through word processing, spreadsheets, and presentations. The tasks include how to:
Store your documents on the cloud so you can work with them on any device, including Mac and Windows computers, iPads, and iPhones.
Use templates so that creating amazing-looking documents is fast and easy.
Add text to your documents by typing or dictation, and then use powerful tools to format that text easily and quickly.
Enhance your Pages documents by including tables, charts, photos, tables of content, headers, footers, and more.
Use Numbers spreadsheets to organize, format, calculate (using built-in or custom formulas), report, and present information in tables and charts.
Use Keynote to build amazing presentations including text, images, charts, animation, and more.
Share your documents by creating PDFs or printing them; provide digital versions of your documents to others using email, AirDrop, or messages.
Collaborate with others on your documents through comments, track changes, and in real time with iCloud.
Register Your Book at quepublishing.com/register to 35% off coupon to be used on your next purchase and more
COVERS
iWork apps for Mac
About the Author
---
Brad Miser has written extensively about technology, with his favorite topic being the amazing Apple hardware and software that helps us to be so creative and productive, including Macs, iPhones, iPads, iCloud, and the iWork apps. In addition to My Pages, Numbers, and Keynote, Brad has written many other books, including My iPhone, Eighth Edition, and My iPhone for Seniors. He has been an author, development editor, or technical editor for more than 100 titles. He has also created videos and other content on a variety of topics. Brad is or has been a sales support specialist, the director of product and customer services, and the manager of education and support services for several software development companies. Previously, he was the lead proposal specialist for an aircraft engine manufacturer, a development editor for a computer book publisher, and a civilian aviation test officer/engineer for the U.S. Army. Brad holds a bachelor of science degree in mechanical engineering from California Polytechnic State University at San Luis Obispo and has received advanced education in maintainability engineering, business, and other topics. In addition to his passion for silicon-based technology, Brad is active in building and flying radio-controlled aircraft. Originally from California, Brad now lives in Brownsburg, Indiana, with his wife Amy. Their proudest accomplishment and greatest joy in life was raising their three daughters, Jill, Emily, and Grace. Brad would love to hear about your experiences with this book the good, the bad, and the ugly. You can write to him at bradmiser@icloud.com. Normal 0 false false false EN-US X-NONE X-NONE "