Don't Sweat the Small Stuff at Work: Simple Ways to Minimize Stress and Conflict (Paperback)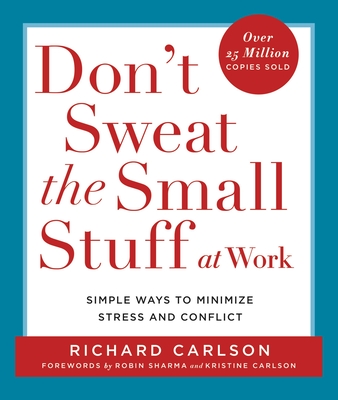 Description
---
Featured in Don't Sweat the Small Stuff: The Kristine Carlson Story starring Heather Locklear, premiering on Lifetime
In this classic roadmap to managing your high-tension job, Richard Carlson shows how to stop worrying about the aspects of your work beyond your control and interact more fruitfully and joyfully with colleagues, clients, and bosses. His key insights reveal how to:
How to manage rush deadlines with rushing
How to transform your outlook and prepare for the day ahead
How to enjoy corporate travel
How to have a really bad day . . . and get over it
About the Author
---
During his life, Richard Carlson, Ph.D, was considered one of the foremost experts in happiness and stress reduction in the United States and around the world and was a frequent featured guest on many national television and radio programs. Don't Sweat the Small Stuff continued to be a publishing phenomenon with over twenty titles in the brand franchise, two of which were co-authored and authored with his beloved wife, Kris. He died of a pulmonary embolism in December 2006, at the age of forty-five.
Praise For…
---
Praise for Don't Sweat the Small Stuff:


"Over a decade of positive psychology research seems to validate what we learned twenty years ago from Don't Sweat the Small Stuff. . . . These wonderful books help break down and simplify how to achieve that happiness."
—ShawnAchor, bestselling author of The Happiness Advantage

"After almost two decades since the original release of Don't Sweat the Small Stuff, Richard Carlson's insights on the meaning of life continue to be timeless. The book teaches us to focus on the 'now' and find balance by living through contentment."—Deepak Chopra

"Don't Sweat the Small Stuff has the power to change our individual and collective lives. I am deeply grateful to Dr. Richard Carlson and his beloved wife Kristine for their wisdom and compassion in bringing transformational practices and perspectives to millions of readers."—ShaunaShapiro, author of The Art and Science of Mindfulness

"Richard Carlson caused a revolution in all our thinking with his Don't Sweat the Small Stuff books. He was like a Zen master in disguise, taking almost an aw-shucks attitude toward shifting the culture."—MarianneWilliamson, New York Times bestselling author of A Return to Love