The Billion Dollar Game: Behind the Scenes of the Greatest Day In American Sport - Super Bowl Sunday (Paperback)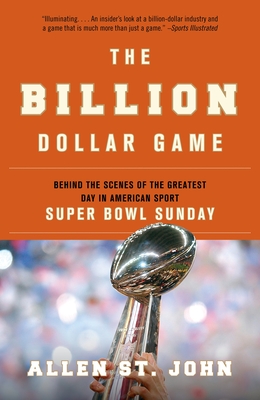 Description
---
A fascinating portrait of the National Football League, the Super Bowl, and all the position players who come together to create the biggest cultural phenomenon in American sports.
 
Think the Super Bowl is only about two teams of titans clashing on the field? Think again. The Super Bowl is about fans, hundreds of millions of fans. It's about money, more money than the GDP of twenty-five sovereign nations. It's about precision, the timing of everything from the notorious commercials to the epic halftime show. And it's about the vision and skill of designing a state-of-the-art stadium to house the great show. Here, Allen St. John reveals how America's biggest sporting event is more than just a couple hours on a Sunday: it's a high stakes, real-life dramatic story, with millions of participants all hoping for the same thing—the greatest game ever.
About the Author
---
Allen St. John is the New York Times bestselling author of the MAD DOG 100 and THE MAD DOG HALL OF FAME, both with Christopher Russo. St. John is also the author of CLAPTON'S GUITAR. He is a sports columnist for the Wall Street Journal, and his recent work has been honored by The Best American Sports Writing. He has written for Rolling Stone, Playboy, Maxim, Men's Journal, the Washington Post Book World, and the New York Times Magazine.
Praise For…
---
"Entertaining. . . . Details the history, trivia and downright weirdness behind this colossal event."--New York Post

"Illuminating….An insider's look at a billion-dollar industry and a game that is much more than just a game." --Sports Illustrated

"A tribute to the people who bring us the game, the people who broadcast the game, the people who market beer during the game and the people who hold parties before the game."--The New York Times

"St. John's narrative is laced with intimate portraits and fresh figures–did you know the resale value of a stadium's worth of tickets exceeds $500 million, or that Americans consume eight million pounds of guacamole on game day?–that enliven the organizational challenge of carrying off the world's biggest bash without a hitch."--Time

"[Allen St. John] looks at the Super Bowl from a non-football perspective...how money weaves through all of it in making this a billion dollar event."--Dallas Morning News

"It's an absorbing, thorough look at the people and corporations that make the game possible."--Tampa Bay Tribune