The Mad Dog 100: The Greatest Sports Arguments of All Time (Paperback)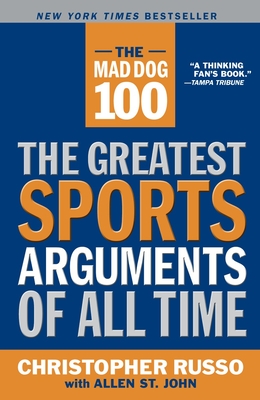 Description
---
The essential book for any sports fan, from one of the reigning kings ofsports talk radio, Christopher "Mad Dog" Russo
Sports fans

Which was the greater achievement, Ted Williams's .406 season or Joe DiMaggio's 56-game hitting streak?

Who would dominate the ultimate Pebble Beach showdown? Ben Hogan or Tiger Woods?

Who was really the most important athlete of the twentieth century?If you love sports, there's only one thing better than a good game—and that's a good argument. Who's the best ever? The worst ever? Underrated? Overpaid? Now, in his long-awaited and completely original book—updated for the 2003 sports season—Christopher "Mad Dog" Russo sets up and breaks down the hundred greatest sports arguments of all time. In classic Mad Dog style, each chapter tackles a classic sports debate and takes sides with the lively and authoritative opinions that have made him one of the top radio personalities in the country. Whether you agree with The Dog—or agree to disagree with the book's often controversial conclusions—The Mad Dog 100 is the perfect companion for any sports fan.
About the Author
---
Christopher "Mad Dog" Russo is co-host of the top-rated Mike and the Mad Dog sports talk radio show on WFAN in New York City, which is also broadcast nationally on the Yes Television Network. He has won radio's most prestigious honor, the Marconi Award, as Major Market Personality of the Year.Allen St. John is a sports columnist for the Wall Street Journal, and his recent work has been honored in Best American Sportswriting. He has written for the New York Times Magazine, the Washington Post Book World, Playboy, Salon, Men's Journal, National Geographic Adventure, and U.S. News & World Report.
Praise For…
---
Russo shows a shocking willingness to be fair, citing the evidence on both sides before choosing one." —Wall Street Journal"Opining about sports in a spirited fashion is Chris Russo's specialty.  You don't have to agree with him 100 percent of the time to find plenty to like and talk about on these pages." —Bob Costas, NBC and HBO