Kebabs: 75 Recipes for Grilling (Paperback)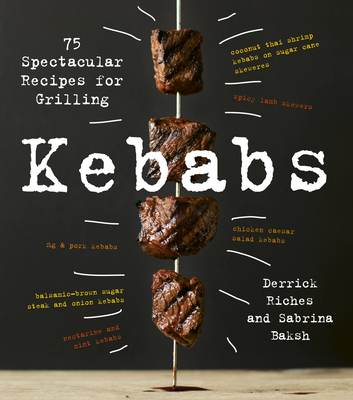 Description
---
It's time to put a new spin on this classic backyard grilling staple with some advice from the experts in Kebabs. These grillers traveled the planet and found the best skewered meals it had to offer.

Everyone loves grilling up kebabs, but it's easy to fall into the mushroom, pepper, chicken/beef rut. In Kebabs, Derrick Riches and Sabrina Baksh take this quick and easy grilling method for a brand new spin.

They traveled the backroads of the Barbecue Belt and studied street-food stalls where skewered, grilled foods are most famous, like Greece, Turkey and the Middle East, India, and even Japan (yakitori) and France (brochettes).

There are ample recipes for beef, chicken, fish and seafood, vegetables, and even fruit, plus vegan substitutions are included for meat recipes. Kebabs includes plenty of technique guidance, too. Are metal or wood skewers better for grilling? Do you really need to soak wooden skewers before cooking?

Not to mention a myriad of rubs, sauces, and mops that make kebabs optimally flavorful and moist, Kebabs makes backyard grilling more globally adventuresome, and flavorful, than it's been before -- all with minimal prep time and effort.
About the Author
---
Sabrina Baksh is a recipe developer, food stylist, and food photographer whose work has been published in a variety of online and print venues, including last year's The Biggest Black Book Ever from Esquire. Riches and Baksh live in Salt Lake City, Utah.
Derrick Riches is a well-respected barbecue and grilling journalist, outdoor cooking expert, and industry consultant. He is best known for his influential site on About.com between 1997–2017. As one of the most popular destinations for outdoor cooking information, he has answered thousands of questions, authored hundreds of articles, and explored barbecue in its broadest definition. He traveled the world, grilled on almost every conceivable type of cooking equipment, taught classes, and judged the best barbecue in the world.

In 2017, he founded a new informational resource at derrickriches.com, branded BGDR. His work remains prominent, particularly in his thought-provoking articles, engaging videos, and notoriously honest product reviews.
Derrick has been quoted by the Wall Street Journal, Huffington Post, BBC, The Washington Post, and numerous books. He has served as a spokesperson for the Hearth, Patio, and Barbecue Association and regularly appears on industry-related podcasts, webcasts, and radio programs.

Derrick currently resides in Austin, Texas.