Valerie Taylor: An Adventurous Life: The remarkable story of the trailblazing ocean conservationist, photographer and shark expert (Paperback)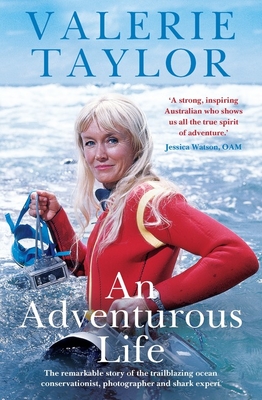 List Price: $24.99
Our Price: $22.49
(Save: $2.50 10%)
Description
---

At 83 years old, Valerie Taylor has lived a big, bold adventurous life.

Born in Australia, Valerie spent a great deal of her childhood in New Zealand. A talented artist, she dropped out of school when she contracted polio and was saved by Sister Elizabeth Kenny's treatment plan; it was two years before she could walk unaided. When Valerie was fifteen, she found work as an animator and moved back to Australia with her family. All the while she thrived on being close to the ocean, and was a keen spear fisher.

In the 1950s, she met Ron Taylor and then her real adventures started. Together they sailed all over the world, photographing and filming their travels for magazines, TV and movies, and making many documentaries. Valerie and Ron became interested in conservation, and focused on sharks in particular. They did all the shark work on Jaws, and James Cameron decided he wanted to become a filmmaker because of Valerie and her husband.

Valerie is working with the brilliant Ben Mckelvey to share her story of falling in love with the ocean and with her husband, Ron. From trainee animator to Spielberg, from JAWS to BLUE LAGOON, this is the remarkable story of an incredible woman.
About the Author
---
Valerie Taylor (Author)
Valerie Taylor is a pioneering diver, shark advocate, conservationist and artist. An acclaimed spear fisher, she met her husband Ron through this sport and together they became a formidable team and pioneers of skindiving, underwater photography and cinematography. They were the first to film great white sharks without the protection of a cage and made countless shark films, including Blue Water, White Death, which led to their work with Steven Spielberg on Jaws. A renowned conservationist, Valerie has compaigned for the protection of Australia's wild oceans, islands and reefs including the Great Barrier Reef before it was given World Heritage status. She was awarded the Order of Australia in 2003 for her conservation efforts. Valerie lives in Sydney and, at 83, is still diving and still fighting for us to save our oceans.

Ben Mckelvey (Author)
Ben Mckelvey is a freelance writer and editor from Sydney who has filed for Good Weekend, GQ, Voyeur, Rolling Stone, The Bulletin, Cosmo, Cleo and the Age and West Australian newspapers. Ben's previous gigs have included editing Sports&Style and Juice magazines, and working at the Sydney Morning Herald as a Senior Feature Writer. He has been embedded with the ADF in East Timor and Iraq, and has worked independently in Iran and Afghanistan.