Out of Office: The Big Problem and Bigger Promise of Working from Home (Large Print / Paperback)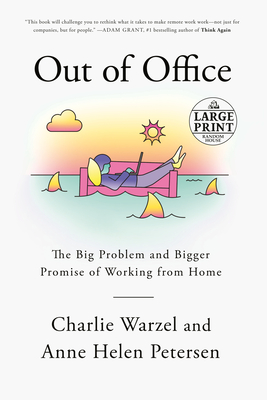 List Price: $29.00
Our Price: $26.10
(Save: $2.90 10%)
Not In Stock - Usually Available in 3-5 Days
Description
---
A future-looking, game-changing book about the radical transformational potential of working from home.

If you think you're working from home during the pandemic, Charlie Warzel and Anne Helen Petersen are here to tell you otherwise. What we're doing right now is something else, a jury-rigged compromise made under the duress of a national crisis that's satisfactory for neither the worker nor the employer. But they also see that the past few months have revealed that there may be another way to go to work on a more permanent basis, one that doesn't involve hellish daily commutes and the demands of jampacked work schedules that no longer make sense for our time. As a society we have talked for decades about flexible work arrangements, and, as the authors make clear, we may finally be at an inflection point where this becomes possible for almost everyone.

Out of Office combines groundbreaking reporting and the couple's first-person experiences after they made the decision to leave their desk jobs in New York City for Montana. They describe how workers and employers across America, and around the world, are finding new ways of working that make people happier and more productive, and companies more profitable. This is a book that aims to reshape our entire relationship to the office, and outline a path toward a new kind of work-life balance that can improve our lives and strengthen our communities.
About the Author
---
CHARLIE WARZEL is a writer-at-large for the New York Times Opinion page. He was the lead writer of the Times' Privacy Project and co-author of 'One Nation Tracked,' a seven-part investigative series on smartphone location tracking, for which he was named a finalist for the 2020 Livingston Award for National Reporting. Before the Times, Warzel was a senior technology writer at BuzzFeed News, covering technology's biggest platforms, disinformation, and information warfare. He was the recipient of a 2019 Mirror Award for his reporting on Facebook's privacy struggles. He lives in Missoula, Montana.

ANNE HELEN PETERSEN is former senior writer at BuzzFeed News, and now writes her newsletter, Culture Study, as a full time venture on Substack. She is the author of three books: Scandals of Classic Hollywood; Too Fat Too Slutty Too Loud: The Rise and Reign of the Unruly Woman; and Can't Even: How Millennials Became the Burnout Generation, based on the viral article of the same name. She received her Ph.D. in media studies from the University of Texas. She lives in Missoula, Montana.
Praise For…
---
A Fortune December Book to Read • An Inc.com Inspiring New Book • A LitHub New and Noteworthy Book • A Riveter Best Book of 2021 • A TechCrunch Best Book of 2021 • A TechRepublic Best Book of 2021

"The authors take the reader on a deeply researched tour through America's broken work landscape and sketch out a vision of what a better future might look like." 
—David Wainer, Bloomberg Businessweek 

"This book will challenge you to rethink what it takes to make remote work work—not just for companies, but for people. With lucid writing, provocative examples, and refreshing candor, Charlie Warzel and Anne Helen Petersen highlight what too many workplaces are doing wrong—and how we can start getting it right."
—Adam Grant, #1 New York Times bestselling author of Think Again and host of the TED podcast WorkLife

"Charlie Warzel and Anne Helen Petersen talked with workers and managers around the world to get at the meat of how to change the story: trust, flexibility, and equity for every employee level. A healthy work–life balance doesn't mean a decrease in productivity; it means happier, healthier workers."
—BookRiot

"Insightful and timely... Never sacrificing meaningful analysis for easy answers, this is a remarkable examination of the rapidly-changing workplace."
—Publishers Weekly, starred

"If you believe there's a better way to live than refreshing your work email until you close your eyes at night, you'll appreciate this deep dive into how workers relate to the office."
—Angela Haupt, Washington Post

"Out of Office isn't just a book about remote work. It's a book that helps us imagine a future where our lives - at the office and home - are happier, more productive, and genuinely meaningful. As companies and employees imagine their post-pandemic futures, Charlie Warzel and Anne Helen Petersen have provided an essential framework for rethinking how we work."
—Charles Duhigg, bestselling author of The Power of Habit and Smarter Faster Better

"Based on a historical review of workforce expectations, journalists Warzel and Petersen focus on four key areas for strategic change to improve working conditions, employee satisfaction, and wellness... Prior to the pandemic, worker burnout, transience, and dissatisfaction were culminating in a call for change. The pandemic and remote-work chaos heightened awareness of the need for change, the returnto work now occurring provides the opportunity, and this book provides a roadmap."
—Booklist