Stalker: A novel (Killer Instinct #5) (Paperback)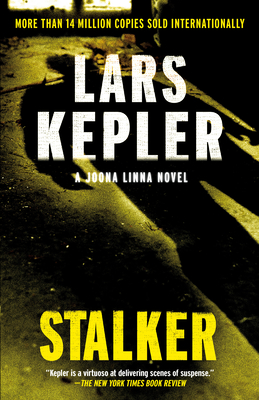 Other Books in Series
This is book number 5 in the Killer Instinct series.
Description
---
The internationally bestselling Killer Instinct series returns with a terrifying new thriller: Detective Joona Linna—recently back from compassionate leave—reunites with hypnotist Erik Maria Bark in a search for a seemingly unassailable sadistic killer.

"Kepler is a virtuoso at delivering scenes of suspense." —The New York Times Book Review

The Swedish National Crime Unit receives a video of a young woman in her home, clearly unaware that she's being watched. Soon after the tape is received, the woman's body is found horrifically mutilated. With the arrival of the next, similar video, the police understand that the killer is toying with them, warning of a new victim, knowing there's nothing they can do. Detective Margot Silverman is put in charge of the investigation, and soon asks Detective Joona Linna for help. Linna, in turn, recruits Erik Maria Bark, the hypnotist and expert in trauma, with whom Linna's worked before. Bark is leery of forcing people to give up their secrets. But this time, Bark is the one hiding things.

Years before, he had put a man away for an eerily similar crime, and now he's beginning to think that an innocent man may be behind bars—and a serial killer still on the loose….
About the Author
---
LARS KEPLER is the pseudonym of the critically acclaimed husband and wife team Alexandra Coelho Ahndoril and Alexander Ahndoril. Their number one internationally bestselling Joona Linna series has sold more than thirteen million copies in forty languages. The Ahndorils were both established writers before they adopted the pen name Lars Kepler and have each published several acclaimed novels. They live in Stockholm, Sweden. Translated by Neil Smith.
Praise For…
---
Praise for Stalker:

"[G]ripping . . . the fast-paced chapters and devious plot twists left me hypnotized and eager to find out the stalker's identity." —Jonathan Elderfield, Associated Press

"This is fast-paced, readable fare—the type of writing that makes the hours disappear. Clean and consumable, Kepler's unflinching prose gives lucid rendering to scenes of suspense, graphic violence, and hand-to-hand combat, elevating the sense of unease or excitement they produce." —Charles Perry, Mystery Tribune

"As in the other books in the superb Joona Linna series, credited to Lars Kepler, a pseudonym of the wife-and-husband team Alexandra Coelho Ahndoril and Alexander Ahndoril, there's not an ounce of flab on Stalker despite its heft, which accommodates both scrupulous character development and elaborate scenes of derring-do." —Nell Beram, Shelf Awareness

"Stalker by Lars Kepler is the most frightening novel I have encountered in years . . . The final showdown with the perpetrator is utterly ingenious and is guaranteed to induce nightmares. Don't read this book late at night." —Vick Mickunas, Dayton Daily News
 
"Lars Kepler, the pseudonym for the seamless collaboration of spouses Alexandra and Alexander Ahndoril, brings—with a sparkling translation by Neil Smith—the same elements to this novel that they have to their previous four featuring Stockholm Detective Inspector Joona Linna: short chapters, nightmarish murders and a tantalizing, suspenseful mystery . . . These books are the best legal drug you could possibly ask for." —Joe Hartlaub, BookReporter

"Well-written . . . One can't wait to see what happens next in this remarkable series." —Michael J. McCann, New York Journal of Books

"The Sandman no doubt prepared a great many readers for the basics of literary aerobics Lars Kepler provides in thriller fiction. Those readers, and the newcomers Stalker will likely attract, will find the same nail-gun precision in these pages. The good news is that the reading will be hypnotically easy. The bad news is that thrillers by other writers might begin to look a bit sedate." —Steve Donoghue, Open Letters Review

"Stalker keeps up the pace with super short chapters that build a sense of urgency. Plus, the premise is super creepy." —CrimeReads

"One of the most engrossing crime fiction reads of the year so far." —BOLO Books

"The reveal of the stalker's identity is a genuine gut-punch. . . . Kepler (the pen name for the husband-and-wife writing team of Alexander and Alexandra Ahndoril) does a masterly job of elevating the serial killer thriller beyond genre clichés and tropes." — Publishers Weekly (starred review)

"Kepler delivers a page-turning hunt for an expertly camouflaged killer that draws shocking connections between the hallowed halls of the Karolinska Institute, Stockholm's prostitution and drug scene, and Sweden's rural churches. The author's dark, complex procedurals are must-reads for readers drawn to Stieg Larsson, Mons Kallentoft, and Michael Connelly." –Booklist (starred review)
 
"An intricate plot and escalating tension set the stage for this tense, clever, pulse-pounding thriller. A must for fans of Stieg Larsson." —J.D. Barker, international best-selling author of The Fourth Monkey

"Dark, complex, and chillingly intelligent, Stalker hooks you on page one and never relents. Lars Kepler's vivid, visceral thriller had me holding my breath to the last page." —Meg Gardiner, Edgar-winning author of UNSUB and Into the Black Nowhere


Praise for The Sandman:
 
"With its tight, staccato chapters and cast of dangerous wraiths lurking everywhere, The Sandman is a nonstop fright." —Janet Maslin, The New York Times

"The Sandman sends us off to dreamland with a nightmare that can make us happy." —Ken Tucker, The New York Times Book Review

"If Jurek Walter reminds you of Hannibal Lecter, with his ability to impel people to act against their own impulse, you'll be forgiven. . . . As with Jurek Walter's powers of persuasion, I felt impelled by Lars Kepler to finish The Sandman. The characters got into my head and I couldn't rest until the mystery was revealed." —Jonathan Elderfield, Associated Press 

"Kepler — actually the husband-and-wife team of Alexandra and Alexander Ahndoril — is really good at this stuff. The chapters are short, the characters deftly drawn, and the action churns along." –Richard Lipez, The Washington Post

"[A] marvel: utterly unnerving, bordering on horror, dripping with suspense throughout." –Entertainment Weekly

"[A] thrilling crime novel that will keep you awake until you read the final page." —Paste Magazine

"This is a book that will keep you up all night, unable to turn off the light, because the pages almost literally fly beneath your fingers. . . . The Sandman is an excellent crime novel. Alexandra Coehlo Ahndoril and Alexander Ahndoril are a terrific writing team that deserve every accolade they receive. You won't be able to resist the urge to read all six Joona Linna novels, and you'll fervently wish there were more." —New York Journal of Books 

"Thriller fans will find it hard to escape The Sandman's spell, for the suspense is unrelenting and the bite-size chapters end on cliffhangers. But unlike the villain, who makes victims go to sleep, his namesake novel will keep readers up all night." —Elyse Dinh-McCrillis, Shelf Awareness

"I had been hearing about Lars Kepler's Joona Linna series of crime novels for years and have finally gotten around to reading them. I had really been missing out. . . . Do you enjoy getting scared out of your wits? Then I suggest you read The Sandman." —Vick Mickunas, Dayton Daily News

"Sensational ... like meeting Hannibal Lecter all over again - twice." —Lee Child

"Kepler doesn't pull any punches, and his care in creating characters will make readers deeply invested in their fates." —Publishers Weekly, starred review
 
"If any Scandinavian crime series is poised to top the characterization and gripping action of Stieg Larsson's Millennium series, it's this one. Kepler has crafted a phenomenal hero in Linna, who wields intuition, strategic genius, and refreshing vulnerability against a foe as compelling and calculating as Hannibal Lecter." —Booklist, starred review
 
"More dark psychological thriller than police procedural, this shiver-inducing read will have you turning pages until the cliff-hanger ending." —Library Journal