Mysteries of the Middle Ages: And the Beginning of the Modern World (The Hinges of History) (Paperback)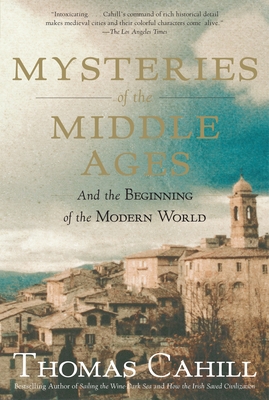 Other Books in Series
This is book number 5 in the The Hinges of History series.
Description
---
From the bestselling author of How the Irish Saved Civilization, a fascinating look at how medieval thinkers created the origins of modern intellectual movements.

After the long period of decline known as the Dark Ages, medieval Europe experienced a rebirth of scholarship, art, literature, philosophy, and science and began to develop a vision of Western society that remains at the heart of Western civilization today, from the entry of women into professions that had long been closed to them to the early investigations into alchemy that would form the basis of experimental science. On visits to the great cities of Europe-monumental Rome; the intellectually explosive Paris of Peter Abelard and Thomas Aquinas; the hotbed of scientific study that was Oxford; and the incomparable Florence of Dante and Giotto-acclaimed historian Thomas Cahill brilliantly captures the spirit of experimentation, the colorful pageantry, and the passionate pursuit of knowledge that built the foundations for the modern world.
About the Author
---
Thomas Cahill's appealing approach to distant history has won the attention of millions of readers in North America and beyond. Cahill is the author of four previous volumes in the Hinges of History series: How the Irish Saved Civilization, The Gifts of the Jews, Desire of the Everlasting Hills, and Sailing the Wine-Dark Sea. They have been bestsellers, not only in the United States but also in countries ranging from Italy to Brazil. He and his wife, Susan, also a writer, divide their time between New York and Rome.
Praise For…
---
"Intoxicating. . . . Cahill's command of rich historical detail makes medieval cities and their colorful characters come to alive."
—The Los Angeles Times

"Cahill offers a fascinating portrayal of the intellectual richness that foreshadows the coming Renaissance. . . . [He] deftly focuses on key locations and major figures that form the foundations of Renaissance and Modern thought in feminism, science, and art."
—Rocky Mountain News

"[Cahill] succeeds roundly in bringing his own gift of enticing readers to the study of the past, describing the development and definition of the medieval worldview, as well as he has ever done."
—New York Daily News