Rome: A Cultural, Visual, and Personal History (Paperback)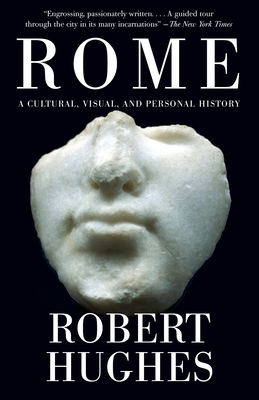 Description
---
From Robert Hughes, one of the greatest art and cultural critics of our time, comes a sprawling, comprehensive, and deeply personal history of Rome—as a city, as an empire, and as an origin of Western art and civilization.
 
Starting on a personal note, Hughes takes us to the Rome he first encountered as a hungry twenty-one-year-old fresh from Australia in 1959. From there, he goes back more than two thousand years to the city's foundation, one mired in mythologies and superstitions that would inform Rome's development for centuries. He explores in rich detail the formation of empire, the rise of early Christianity, the Crusades, the Renaissance, and takes us up to the present, through the rise and fall of Mussolini's fascism. Equal parts idolizing, blasphemous, outraged, and awestruck, Rome is a portrait of the Eternal City as only Robert Hughes could paint it.
About the Author
---
Robert Hughes was born in Australia in 1938. Beginning in 1970 he lived and worked in the United States, where until 2001 he was chief art critic for Time. His books include The Shock of the New, The Fatal Shore, Nothing If Not Critical, Barcelona, Goya, and Things I Didn't Know. He was the recipient of numerous awards and prizes for his work. Hughes died in 2012.
Praise For…
---
"Engrossing, passionately written. . . . A guided tour through the city in its many incarnations." —The New York Times

"Exhilarating. . . . History as portrait gallery . . . painted with unforgettable sharpness. . . . This is vintage Hughes."
—Simon Schama, Newsweek

"Ambitious, [a] panoramic paean. . . . Reading [Rome] is like being taken around the Eternal City . . . by an entertaining, erudite, opinionated acquaintance with a gift for storytelling." —Francine Prose, The New York Times Book Review

"Sweeping. . . . [A] feast of information, opinion and fascinating detail. . . . With typical bravado, wit and rage, he puts art and architecture in sharp social, political, religious and historical context." —Los Angeles Times

"Eloquent. . . . An original, persuasive take on the Eternal City." —The New York Review of Books
 
 "Vigorous. . . . Razor-sharp. . . . An indelible portrait of a city in love with spectacle and power. . . . Although [Hughes'] book is a biography of Rome, it is also an acutely written historical essay informed by his wide-ranging knowledge of art, architecture and classical literature, and a thought-provoking meditation on how gifted artists…and powerful politicians and church leaders …can reshape the map and mood of a city." —The New York Times
 
"Ever since Livy dipped his quill and Gibbon marked his proofs, histories of Rome have been a dime a dozen. But there is only one Robert Hughes. . . . Reading his strenuous, argumentative, vitally impassioned prose you are reminded just how insipid, prim, and nervously conventional most history and art history writing is. . . . So although the ostensible subject of his book is the Eternal City, the real tour d'horizon it offers is a walking tour of the hard-structured, brightly lit, and capacious expanse that is the Hughes brain." —Newsweek
 
"Hughes has a taste for big subjects. . . all intricately rooted in formative personal encounters. . . . [Rome] provides fascinating factual and anecdotal accounts of many of Rome's artistic and historic landmarks."—San Francisco Chronicle
 
"Freewheeling, massive, magisterial. . . . Our guide conjures up a well-known work of genius and makes it new, moving effortlessly from biography to art to engineering as he illuminates its every detail." —The New York Observer
 
"A sweeping, personal history that races from the city's beginnings to its current state as a woefully crowded tourist attraction." —Los Angeles Times
 
"A story that lasts almost 3,000 years and is pivotal to so much of Western civilization requires a chronicler of well-nigh unattainable erudition, who can write with the skill needed to prevent readers from succumbing to a literary version of Stendhal syndrome. Hughes comes as near as anyone to fulfilling that job description and for much of this wide-ranging volume he succeeds magnificently." —The Economist
 
 "Robert Hughes couldn't have chosen a better subject for himself than Rome. His cultural history of the city is superb. . . . Hughes devours art—and Rome offers a feast worthy of his gargantuan appetites. . . . If visiting Rome, you should certainly take this passionate, erudite bruiser's Baedeker with you—a superbly rich blend of history, art and travelogue." —The Sunday Times (London)
 
"[Hughes] is a writer who does nothing by halves, and Rome positively crackles with his splenetic downrightness. We enjoy reading Hughes precisely because he avoids any of that corseted coyness which characterizes too much art-historical writing nowadays." —The Literary Review