The Yellow Birds: A Novel (Hardcover)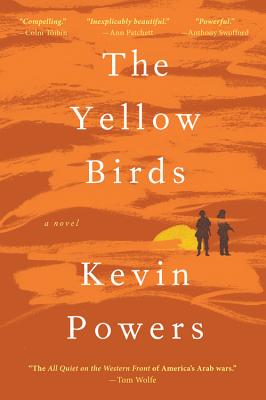 September 2012 Indie Next List
---
"The Yellow Birds should be required reading for the President, the Congress, and the entire Military Industrial Complex. Powers' novel describes in lyrical language the intensity and the confusion of war. Young men who have barely left boyhood face battle for the first time in Iraq, a country and a people that they know little about. For those fortunate enough to return home, the war comes with them and affects their families as well. In eloquent prose, Iraq war veteran Powers unveils the hidden costs of war for the average American. Truthful and painful, The Yellow Birds will join the classics of war fiction."
— Joan Grenier, Odyssey Bookshop, South Hadley, MA
Description
---
Finalist for the National Book Award, The Yellow Birds is the harrowing story of two young soldiers trying to stay alive in Iraq.

"The war tried to kill us in the spring." So begins this powerful account of friendship and loss.

In Al Tafar, Iraq, twenty-one-year old Private Bartle and eighteen-year-old Private Murphy cling to life as their platoon launches a bloody battle for the city. Bound together since basic training when Bartle makes a promise to bring Murphy safely home, the two have been dropped into a war neither is prepared for.

In the endless days that follow, the two young soldiers do everything to protect each other from the forces that press in on every side: the insurgents, physical fatigue, and the mental stress that comes from constant danger. As reality begins to blur into a hazy nightmare, Murphy becomes increasingly unmoored from the world around him and Bartle takes actions he could never have imagined.

With profound emotional insight, especially into the effects of a hidden war on mothers and families at home, The Yellow Birds is a groundbreaking novel that is destined to become a classic.
About the Author
---
Kevin Powers is the author of The Yellow Birds, which won the PEN/Hemingway Award, the Guardian First Book Award, and was a National Book Award Finalist, as well as Letter Composed During a Lull in the Fighting, a collection of poetry. He was born and raised in Richmond, Virginia, graduated from Virginia Commonwealth University, and holds an MFA from the University of Texas at Austin, where he was a Michener Fellow in Poetry. He served in the US Army in 2004 and 2005 in Iraq, where he was deployed as a machine gunner in Mosul and Tal Afar.
Praise For…
---
"A remarkable first novel...
The Yellow Birds
is brilliantly observed and deeply affecting: at once a freshly imagined bildungsroman about a soldier's coming of age, a harrowing story about the friendship of two young men trying to stay alive on the battlefield in Iraq, and a philosophical parable about the loss of innocence and the uses of memory...Extraordinary."—
Michiko Kakutani, New York Times
"
The Yellow Birds
might just be the first American literary masterpiece produced by the Iraq war."—
Los Angeles Times
"An elegiac, sober, and haunting coming-of-age war story."
—
TIME
"The first great Iraq War novel."
—
Darren Reidy, Rolling Stone
"A first novel as compact and powerful as a footlocker full of ammo....Kevin Powers has something to say, something deeply moving about the frailty of man and the brutality of war, and we should all lean closer and listen."
—
Benjamin Percy, New York Times Book Review
"An exquisite excavation of the war's moral and psychological wreckage. Powers evokes the peculiar smell and feel of the war better than any journalist."
—
The New Yorker
"Darkly beautiful....How to tell a true war story if you're more a poet than a novelist? Tell it as a poet would. Tell it as Kevin Powers does."
—
Alan Cheuse, NPR's All Things Considered
"A novel of grit, grace, and blood by an Iraq war veteran....Kevin Powers moves gracefully between spare, factual description of the soldiers' work to simple, hard-won reflections on the meaning of war."
—
Ron Charles, Washington Post
"An unusually spare and lyrical war story....The characters are sketched with as much heart as economy...Like the Iraq heat, which 'had the surprising effect of reducing one to tears in an instant,'
The Yellow Birds
skulks along, detached and undemanding, until all of a sudden you turn a page and find yourself weeping."—
GQ
"The
All Quiet on the Western Front
of America's Arab wars."—
Tom Wolfe
"
The Yellow Birds
is harrowing, inexplicably beautiful, and utterly, urgently necessary."—
Ann Patchett
"Veteran Kevin Powers's searing debut novel brings the Iraq War home in compelling detail....
The Yellow Birds
is luminous...an indispensable portrait of the Iraq War and its impact of those who fought it."—
Men's Journal
"Kevin Powers'
The Yellow Birds
is written with an intensity which is deeply compelling; every moment, every memory, every object, every move, are conjured up with a fierce and exact concentration and sense of truth."—
Colm Toibin
"This is a novel I've been waiting for.
The Yellow Birds
is born from experience and rendered with compassion and intelligence."—
Alice Sebold
"Compelling, brilliantly written, and heart-breakingly true,
The Yellow Birds
belongs in the same category as Tim O'Brien's
The Things They Carried
and Norman Mailer's
The Naked and the Dead
. Thus far the definitive novel of our long wars in the Middle East; this book is certain to be read and taught for generations to come."—
Philipp Meyer, author of American Rust
"Reading
The Yellow Birds
I became certain that I was in the presence of a text that will win plaudits, become a classic, and hold future narratives of the war to a higher standard....a superb literary achievement."—
Chris Cleave
"Powers has created a powerful work of art that captures the complexity and life altering realities of combat service. This book will endure. Read it and then put it way up on that high rare shelf alongside Ernest Hemingway and Tim O'Brien."
—
Anthony Swofford
"We haven't just been waiting for a great novel to come out of the Iraq War, our 21st century Vietnam; we have also been waiting for something more important, a work of art that illuminates our flawed and complex and striving humanity behind all such wars. At last we have both in Kevin Powers'
The Yellow Birds
."—
Robert Olen Butler
"A classic....Powers's first novel is full of boys, bile, bark, bodies and bewilderment....shows Powers's power to build suspense with substance and sensitivity."--
Military Times
—
-
"Every sentence of
The Yellow Birds
is something to marvel over, the words flashing and chiming like spent brass casings. Kevin Powers, who served as an Army machine gunner, has written one of the best books of the year, what could become the definitive novel about Iraq."--Benjamin Percy,
Esquire
—
-
"In the great tradition of Hemingway and Tim O'Brien, Kevin Powers's exquisitely written
The Yellow Birds
draws us in to the combat zones of Iraq: the watch, the wait ("Stay alive, Stay alert"), the bungle, the slaughter, and the irreparable aftermath."—
Edna O'Brien
,
-
"Remarkable for its intensity of both feeling and expression. In this book about death, every line is a defiant assertion of the power of beauty to revivify, whether beauty shows itself in nature or (later) in art. Graves, Owen, and Sassoon would have recognised this war and the strange poetry it has bred."
—
Hilary Mantel
,
-