The Thickety #3: Well of Witches (Paperback)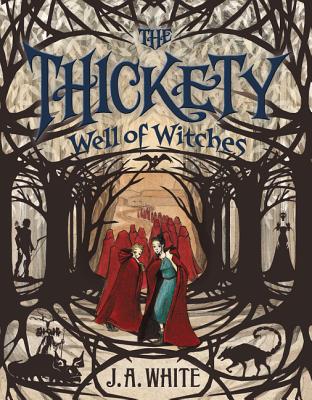 Other Books in Series
This is book number 3 in the The Thickety series.
Description
---
An epic quest into an enchanted kingdom with new kinds of magic, an old enemy, and only one way out. Fans of Neil Gaiman will love this third novel in the spectacular and twisty fantasy series that has readers and reviewers raving.
Kara and Taff know that only Grace Stone has the power to reverse her Last Spell on their father, and that in order to save him, they have to rescue their foe from the Well of Witches first. Forgiving Grace should be the hardest part of their journey . . . but soon the children are confronted by creatures called the Faceless, mysteries as old as magic, and an ancient secret that threatens their very lives. Back in the World, a war against magic is brewing that endangers everyone they care about. Can Kara and Taff find Grace and make it back to their father in time?
About the Author
---
J. A. White is the author of the Thickety series and Nightbooks. He lives in New Jersey with his wife, three sons, and the ghost of their hamster, Ophelia. When he's not making up stories, he teaches a bunch of kids how to make up stories. He wishes dragons were real because it would be a much cooler way to get to work. You can visit him online at www.jawhitebooks.com.
Praise For…
---
Praise for THE THICKETY: WELL OF WITCHES: "This intriguing adventure set in an intriguing world will keep readers riveted; series fans, beware: do not start this book close to bedtime." — Kirkus Reviews
"For fans, this is a sharp, moving, intense dive into a lushly described world that seems to be headed for a good versus evil showdown in a future volume." — Bulletin of the Center for Children's Books
Praise for THE THICKETY: THE WHISPERING TREES: "The Thickety: The Whispering Trees is a thrilling sequel: a whirlwind of suspense and twists. J.A. White isn't just a fantastic writer and storyteller—he spins myths that feel as old as the Thickety itself. A must-read series for every age." — Soman Chainani, New York Times bestselling author of The School for Good and Evil
"With a plot that coils like a tangle of brambles and an ending no less twisty than that of its predecessor, this sequel will keep readers invested in Kara and Taff's adventures in this dangerous and imaginative world." — Publishers Weekly (starred review)
"The twisted plot is perfectly matched by the twisted atmosphere. . . . Spine-tingling." — Booklist (starred review)
"An exceptionally well-written and compelling sequel." — Bulletin of the Center for Children's Books (starred review)
"This title has all the ingredients—a doughty heroine and her admirable younger brother, an unreliable guide who can't stay the same age for long, and a heavy "ick" factor-to keep readers glued to it. The unexpected climax and ending guarantee another book to enjoy." — Kirkus Reviews
"This title will appeal to fans of the first volume in the series, as well as to those who enjoy their fantasy a little on the scary side. This is a good series to suggest to fans of Joseph Delaney's Last Apprentice series." — Voice of Youth Advocates (VOYA)
"The nail-biting suspense will keep readers turning the pages late into the night, and in Kara, readers will find a protagonist to root for. Readers who enjoyed the spine-chilling first installment will be eager to get their hands on this sequel." — School Library Journal
Praise for THE THICKETY: A PATH BEGINS: "The spellbinding story, lashings of suspense and stalwart heroine will draw in fantasy fans and keep them reading until the bitter ending." — Kirkus Reviews
"White's debut novel is darkly bewitching. The well-crafted characters operate beautifully within the fantastical world he has created. Readers will devour each twist and turn of the plot, right up to the startling conclusion." — School Library Journal
"A startling plot twist at the end will have readers urgently waiting for a sequel, and it may lead them right back into the book to see if they missed earlier clues." — Bulletin of the Center for Children's Books
"The Thickety may give you nightmares, but it is a gripping story with a great heroine." — Angie Sage, #1 New York Times bestselling author of the Septimus Heap series
"The Thickety is a sinister, magical debut with a marvelous and shocking heroine. J.A. White's elegant writing and masterful plot kept me turning pages late into the night." — Lisa McMann, author of the New York Times bestselling The Unwanteds series