Twins: A Novel (Paperback)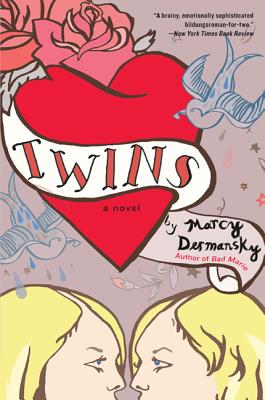 Description
---
On the eve of their thirteenth birthday, identical twins Chloe and Sue agree to get matching tattoos to prove their bond is stronger than DNA. So begins Twins, Marcy Dermansky's funny and disturbingly honest debut novel, the extraordinary story of blonde, beautiful twin sisters trying to survive adolescence and each other.
Over the course of five years, Chloe and Sue overcome breakups, unhappy Hawaiian vacations, unicycle lessons, eating disorders, pill abuse, and their first painful explorations of love and sex. Told in alternating voices, Twins introduces two new unforgettable heroines on the verge, in a spellbinding tale of teen angst, obsession, and redemption in the suburbs.
About the Author
---
Marcy Dermansky is a MacDowell Fellow and the winner of the 2002 Smallmouth Press Andre Dubus Novella Award and the 1999 Story magazine's Carson McCullers short story prize. Her stories have been published in numerous literary journals, including McSweeney's, Alaska Quarterly Review, and Indiana Review. Dermansky is a film critic for About.com and lives in Astoria, New York.
Praise For…
---
"A startlingly beautiful love story… A thrill to read… The most detailed, disturbing, and loveable oddball romance you'll ever read." — Frederick Barthelme, author of Elroy Nights
"A beguiling story of the powerful ties between identical twins… Dermansky has crafted a memorable novel." — Booklist
"Sometimes despairing, sometimes blackly humorous, always engrossing and thoroughly original. A wonderful debut." — Kirkus Reviews (starred review)
"With dark humor and raw power…Dermansky has created a fascinating set of characters." — Library Journal
"Entertaining...Balanced by an overarching fable-like quality to this moving and well-written story." — Publishers Weekly
"Twins is spectacular, weird, extraordinarily real, and funny in ways they don't have names for." — Jerry Stahl, author of Permanent Midnight
"Dermansky is a lyrical, gifted, and original writer.…With a style that's extremely accessible and lots of fun." — Janice Eidus, author of The Celibacy Club
"Raw, extraordinary...A dark, heartbreaking tale about adolescents trying to survive." — Huntsville Times
"Dermansky excels at depicting extreme emotional states and how we rationalize them." — Village Voice